2019 Season Opening – Part Four – Top Tips for Easter Weekend
Tuesday April 16th 2019
Michael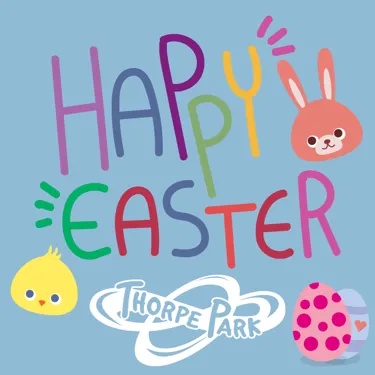 This weekend is Easter Sunday and we know that as soon as you've caved and eaten a whole chocolate egg, you'll be heading down to Thorpe Park!
Theme parks are busy places over the holidays so check out our top tips for making the most of your day over a hopefully sunny Easter Sunday!
The Early Bird Catches the Discount
Book online right now! You'll earn a whopping discount on your entry price and be able to sail straight through the turnstiles when you arrive!
And while we're making savings, why not grab your car parking too! You'll earn another fab discount and be able to make a smooth exit at the end of the day, allowing maximum chocolate eating time when you get home!
We love a lie-in as much as the next thrill seeker but we also understand the primal need to ride roller coasters at 10am on a Sunday morning.
We would suggest arriving as early as possible. Beat the traffic, beat the queues and make a dash to some of our big players at the beginning of the day. Start on the Stealth/Swarm side of the Island and work your way towards Colossus/Saw throughout the day!
Chip and Win
We will be cashless on Easter Sunday so your transactions can be as quick as Stealth! No need to worry about that loose change falling out of your pocket on Colossus.
Mix It Up Your Way
Coke Freestyle has arrived at Thorpe Park! Hundreds of delicious flavour combinations to hold off your thirst, and a smart Freestyle Vessel to keep and re-use during future visits!
You can buy your 'Freestyle Vessel' from the following locations: The bridge as you enter, The Dome, The Megastore and the Nemesis Fastrack Shop!
There are three packages available! (Discount for Passholders)
1 vessel £10
2 Vessels £18
3 Vessels £24
Keep hold of your cup and reactivate the chip during your next visit for only £6! (Discount for Passholders). The Freestyle Refresh and Refill stations can be found in: The Dome, at Rush, Amity Kebabs, Tidal Wave and the Nemesis Inferno Shop.
Make sure you grab yours at the beginning of the day to maximise your mixes!
Don't Get in a Flap, Download the App
Have you downloaded our new and improved app? This thing is amazing and allows guests to hold Thorpe Park in the palm of their hand!
App users can enjoy a fully interactive park map, live queue times, resort information and an in-app shop where you can do everything from booking a cosy stay at the Shark Hotel to ordering your pass for a season of experiences Like No Other!
We hope these tips help you make the most of your day. Have a thrilling Easter!
Michael 
Official Thorpe Park Resort Blogger