2019 Season Opening – Part One - Coke Freestyle
Tuesday March 26th 2019
Michael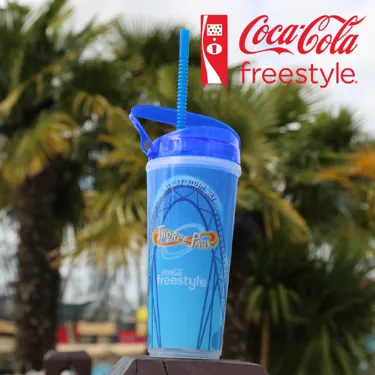 Opening weekend 2019 starts THIS Friday! We can't wait to welcome you all back to The Island for our season of experiences Like No Other! During April, our blog will cover some of the new, exciting things you can expect to see on park this season and bring you up-to-date on some of our services. This week, we're looking at how you can refresh and refill around the park with Coke Freestyle! Dive in to find out more!
Coke Freestyle has arrived at Thorpe Park! Hundreds of delicious flavour combinations to hold off your thirst, and a smart Freestyle Vessel to keep and re-use during future visits!
The cup or 'Freestyle Vessel' isn't just smart to look at, it's intelligent! There's a chip at the base of the vessel, so you will never need to present a receipt again when you want to re-fill! The chip will be activated the first time you pop it in one of our Freestyle machines and can be used until midnight that day, so you can re-fill to your heart's content.
You can buy your 'Freestyle Vessel' from the following locations: The bridge as you enter, The Dome, The Megastore and the Nemesis Fastrack Shop!
There are three packages available!
1 vessel - £10

2 vessels - £18

3 vessels - £24
Keep hold of your cup and reactivate the chip during your next visit for only £6!
The Freestyle Refresh and Refill stations can be found in: The Dome, at Rush, Amity Kebabs, Tidal Wave and the Nemesis Inferno Shop.
This is one of the many ways we are starting to tackle 'single use plastics' on the resort as we continue to focus our efforts on being an environmentally sustainable and responsible business.
This is just one of the many changes to the resort you will see this season and we can't wait to tell you about more over the coming weeks. Enjoy your Coke Freestyles, enjoy the good weather and enjoy amazing days out at Thorpe Park throughout 2019!
Michael
Official Thorpe Park Resort Blogger
Please note that prices listed in this article are subject to change.