FANCY A THRILL THIS YEAR? BRITS CLAIM GOING TO THE PUB IS NOW A BIGGER THRILL THAN HAVING A BABY!
Wednesday February 9th 2022
Chris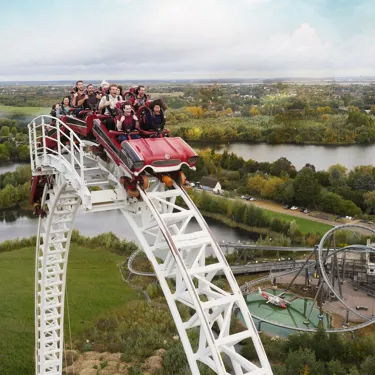 The last two years have definitely put fun and activities on the back burner for many and new research has found nearly two thirds (59 per cent) of Brits feel like their lives have become monotonous!  
In fact, one in five (19 per cent) say going to the pub is now a bigger thrill than the prospect of major life events such as getting engaged or married or even having a baby (6 per cent), as found in a study by the UK's most thrilling theme park, THORPE PARK Resort. 
Our fears have also changed with the ongoing conversation around rising costs of living; in fact the biggest fright imaginable for 2022 is experiencing an unexpected financial cost according to more than a third of UK adults (38 per cent). 
Yet, it's not all doom and gloom, with nearly two thirds (61 per cent) of us saying we want to rediscover a passion for life! The appetite for fun is clear, with going on holiday (43 per cent), seeing friends (37 per cent), and, for more than one in 10, going to a theme park (12 per cent) all coming in high on the list for top thrills to aim for in 2022.  
Those who are most looking forward to visiting a theme park this year, having a UK short break or simply reuniting with friends, will be thrilled to know that all of these things could be a real possibility for them and better still are available in one place!  THORPE PARK Resort is preparing to reopen its theme park and quirky on-site accommodation - Thorpe Shark Cabins - for another high energy season of unmissable events and fun. The perfect location to reconnect with friends and family, forget the monotony of pandemic life, have fun making new memories and perhaps even enjoy a mini break away too!  
From 25th March 2022, adrenaline junkies will be able to soak up the excitement and fun with family and friends; taking on some of Europe's most thrilling coasters AND enjoying a season full of unmissable events which will include the return of fan-favourites Oktoberfest and FRIGHT NIGHTS. 
With money-saving and advanced planning high on the agenda for many, tickets for THORPE PARK Resort in 2022 are now available to pre-book and purchase online! Plus by pre-booking on thorpepark.com guests also have the opportunity to save up to 35% off the on the day price per person! Visit www.thorpepark.com for more information and to book tickets*.  
Even better value for those looking for regular thrills is the Thorpe Park Annual Pass! Annual Passes are the best value way to visit Thorpe Park Resort. With passes starting at just £99, perks include a year's entry to Thorpe Park Resort, fantastic discounts on overnight stays, exclusive access to special offers and news plus extra perks including free parking! For more information and to purchase visit https://www.thorpepark.com/tickets-passes/passes/ 
ENDS 
*When booked on our website thorpepark.com. Save up to 35% when you book theme park tickets in advance. Tickets subject to availability and savings will vary throughout the season. On the day theme park ticket price £55pp.  
Thorpe Park Resort is open from 25th March to 31st October 2022. Visit our website www.thorpepark.com for details of opening dates and opening times as these vary throughout the season.  For those looking to extend the thrills and make it a mini break away, why not book an overnight stay in the on-site Thorpe Shark Cabins. For more details and to book a 2022 short break, visit www.thorpebreaks.co.uk  
Research was carried out by Censuswide between 10th and 12th January 2022 with 2,000 respondents. 
Top 10 thrills for Brits in 2022 
The UK is often referenced as a nation of 'thrillseekers', but research from THORPE PARK Resort shows that after the events of the last two years big life events like getting married or having a baby are now deemed less enthralling than going to the pub! 
Going on holiday 43%

 
Seeing my friends 37%

 
Travelling 35%

 
Meeting new people 22%

 
Going to the pub 19%

 
Going to a theme park 12%

 
Festivals 11%

 
Having a baby 6%

 
Getting married 6%

 
Getting engaged 6%

 
Events - As always, we'll be taking the lead from the Government and following their guidance to ensure we keep everyone as safe as possible whilst making sure we continue to deliver memorable days out like no other! 
For more information please contact:  
thorpepark@popcornpr.co.uk  
01494 413170 
Notes to Editors 
About Thorpe Park Resort 
Take on the towering skyline of Thorpe Park Resort with seven thrilling coasters with a combined height of over 650ft. Brace yourself against an average of 4.5gs per coaster and get ready to twist and turn through 22 inversions all at Thorpe Park, Europe's most intense theme park experience. 
2022 will see Thorpe Park enter another decade of immersive experiences and unmissable events for the whole family to enjoy! With an adrenaline-fuelled season ahead, you can experience world class rollercoasters from the iconic Stealth, one of Europe's fastest and tallest rollercoasters, to the UK's only winged rollercoaster The Swarm. Endure the searing heat of Nemesis Inferno as you twist through the scorching forces and lava-laden loops of this intense and volatile volcanic voyage before getting a super-soaking from the 85ft plunge of Tidal Wave. Where else can you enjoy all of this alongside a variety of shows, attractions and exciting events? Pre-booking tickets in advance on our website is essential to ensure you guarantee your entry to the most thrilling amount of fun you'll have this year. www.thorpepark.com  
Getting to Thorpe Park Resort 
Thorpe Park Resort, Staines Road, Chertsey, Surrey, KT16 8PN 
Train: Staines Station is just 32 minutes direct from London Waterloo  
Bus: On open days a shuttle bus runs between Staines Station and Thorpe Park Resort every 15 minutes. Alternatively, both the 950 and 951 buses get you right up to the gates.  
Follow us on social media: 
Instagram: @thorpeparkofficial 
TikTok: THORPEPARK 
Facebook: @thorpepark 
Twitter: @THORPEPARK 
YouTube: THORPE PARK Resort Official 
About Merlin Entertainments 
Merlin Entertainments is a global leader in location-based, family entertainment. As Europe's Number 1 and the world's second-largest visitor attraction operator, Merlin now operates 130 attractions, 20 hotels and 6 holiday villages in 25 countries and across 4 continents. Merlin's purpose is to deliver memorable experiences to its 67 million guests around the world, through its iconic brands and multiple attraction formats, and the commitment and passion of its c.28,000 employees (peak season).  
See www.merlinentertainments.biz for more information and follow on Twitter @MerlinEntsNews.