LOSE YOURSELF IN A YEAR OF EXHILARATING THRILLS AT THORPE PARK RESORT IN 2020
Monday February 24th 2020
Michael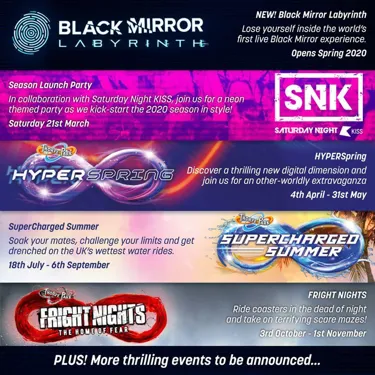 With intense coaster action, immersive events and exhilarating experiences Thorpe Park Resort is an other-worldly Island like no other! With over 30 thrilling rides, attractions and live experiences it is a must-visit for those looking to embark on an incredible, adrenaline-fuelled adventure with friends and family.
With the gates to the Park set to re-open on 27th March 2020, it won't be long before hearts will once again be racing as guests speed, twist, sweep and soar on some of Europe's most thrilling coasters and immerse themselves in unmissable events and attractions!
Black Mirror Labyrinth
Opens late March!
BRAND NEW in 2020 you're invited to playtest the Labyrinth as THORPE PARK Resort launches the world's first live Black Mirror experience with Black Mirror Labyrinth.
Get lost as you enter a hypnotic maze using cutting-edge visual technology and sensory-defying environments. Will you keep your grip on reality or will you lose yourself in the digital mainframe as this unpredictable digitised dimension reveals an uneasy truth that manipulates and displaces your very existence, leaving you questioning how well you really know yourself.
HYPERSpring
4th April – 31st May
Launch into the 2020 season with HYPERSpring! Surrender your subconscious and get lost in a digital maze in the new for 2020 Black Mirror Labyrinth, unlock the cryptic code phrase as you ride some of Europe's most thrilling rides in the Cosmic 6 challenge and indulge yourself with limited edition themed delicacies available at select outlets across the Island. Then, brace yourself for random rollercoaster replays, detonation delays and system overloads in Hyper Ride Roulette – taking place exclusively during this May Half Term only. 
What will you experience as Thorpe Park Resort battles a trans-dimensional glitch?
SuperCharged Summer
18th July – 6th September
This summer plunge into fun and soak up the thrills with SuperCharged Summer! Cool down and prepare to get drenched with friends as you experience the UK's wettest water rides in the #SuperSoakedSelfieChallenge, before you tantalise your taste buds with our other-worldly Island foods.
Soak your mates, challenge your limits and splash into SuperCharged Summer at Thorpe Park Resort.
FRIGHT NIGHTS
3rd October – 1st November
In 2020, brace yourself as FRIGHT NIGHTS returns for another terrifying season. Taking over the Resort this autumn, prepare to be scared senseless at the UK's premier Halloween event as you ride Europe's most thrilling coasters in the dead of night before taking on our award-winning live action scare mazes and experiences.
Fright Nights – the home of FEAR.
THORPE Shark Cabins
After a thrill-packed day at the park, relax with an overnight stay in the Thorpe Shark Cabins – a hotel like no other! Guaranteed to give the most excitable sleeper a great night's rest, these smartly designed bite-sized rooms sleep up to four people and are just a fin away from Europe's most exhilarating coasters. Along with jawesome exclusive Fastrack entry until 11am every day and a second day FREE* in the park, you can enjoy a hot buffet breakfast at our onsite Bar & Grill and FREE car parking, all included within your hotel package. Visit https://www.thorpebreaks.co.uk for more information and to book.
Thorpe Park Resort is open from 27th March to 1st November 2020**. Visit www.thorpepark.com for more information and to book tickets. Park tickets from £33 when booked in advance online***. Or why not consider a Thorpe Park Season Pass and enjoy multiple visits all season long, available online now from just £49 in our sale - time is running out on this offer so get your hands on one fast****.
-ENDS-
Black Mirror TM Endemol Shine UK Ltd. © 2020 Endemol Shine Group.

*Terms and conditions apply. Subject to availability. Fastrack entry is on selected rides.
**Visit our website for details of opening dates and opening times as these vary throughout the season.
***When booked at least seven days in advance on our website. Subject to availability. On the day park ticket price £55.
****Standard Season Pass includes free entry to non-event days, 20% Hotel Discount (through Merlin Holiday Club).. Does not cover entry on Friday, Saturday or Sunday in August and first week of September, parking is not included.  Free entry into FRIGHT NIGHTS is not included. Standard Season Pass cost from £55 outside of offer period. Please see the website for more details.  Premium Season Passes also available.
For more information please contact:
01494 413170
Notes to Editors
About Thorpe Park Resort
Take on the towering skyline of Thorpe Park Resort with seven thrilling coasters with a combined height of over 650ft. Brace yourself against an average of 4.5gs per coaster and get ready to twist and turn through 22 inversions all at Thorpe Park Resort, Europe's most intense theme park experience.
2020 will see Thorpe Park enter another decade of immersive experiences and unmissable events for the whole family to enjoy! With an other-worldly season ahead, you can experience world class rollercoasters from the iconic Stealth, one of Europe's fastest and tallest rollercoasters, to the UK's only winged rollercoaster The Swarm. Endure the searing heat of Nemesis Inferno as you twist through the scorching forces and lava-laden loops of this intense and volatile volcanic voyage before getting a super-soaking from the 85ft plunge of Tidal Wave. Where else can you enjoy all of this alongside a variety of shows, attractions and brand-new events? Book your tickets in advance on our website and ensure you guarantee your entry to the most thrilling amount of fun you'll have this year. www.thorpepark.com
Getting to Thorpe Park Resort
Thorpe Park Resort, Staines Road, Chertsey, Surrey, KT16 8PN
Train: Staines Station is just 32 minutes direct from London Waterloo
Bus: On open days a shuttle bus runs between Staines Station and Thorpe Park Resort every 15 minutes. Alternatively, both the 950 and 951 buses get you right up to the gates.

Follow us on social media:

           @thorpeparkofficial
           @THORPEPARK
           THORPE PARK Official
           THORPE PARK Resort
Thorpe Shark Cabins
Fastrack your thrills and unlock early access to the Island like no other with a jawesome stay at the Thorpe Shark Cabins – a hotel like no other! The unique hotel situated on the Thorpe
Park Resort Island features bite-sized rooms that sleep up-to four in a stunning waterfront location, only a fin away from Europe's most thrilling coasters. After a thrill-packed day on Resort, Thorpe Shark Cabins are guaranteed to give even the most excitable sleeper a great night's rest in smartly designed cabin-sized rooms. Along with jawesome exclusive unlimited Fastrack to the rides* until 11am on your second FREE day* in Park, you'll also enjoy a hot buffet breakfast at Fin's Bar and Grill, FREE WiFi and FREE car parking.
For more information visit THORPEBREAKS.co.uk
*Terms and conditions apply. Subject to availability. Fastrack entry is on selected rides only.

About Merlin Entertainments
Merlin Entertainments is a global leader in location-based, family entertainment. As Europe's Number 1 and the world's second-largest visitor attraction operator, Merlin now operates 130 attractions, 20 hotels and 6 holiday villages in 25 countries and across 4 continents. Merlin's purpose is to deliver memorable experiences to its 67 million guests around the world, through its iconic brands and multiple attraction formats, and the commitment and passion of its c.28,000 employees (peak season).
See www.merlinentertainments.biz for more information and follow on Twitter @MerlinEntsNews.