THE COUNTDOWN IS ON AS THORPE PARK PREPARES TO RE-OPEN FOR A SEASON OF UNMISSABLE EVENTS IN 2022
Wednesday February 16th 2022
Chris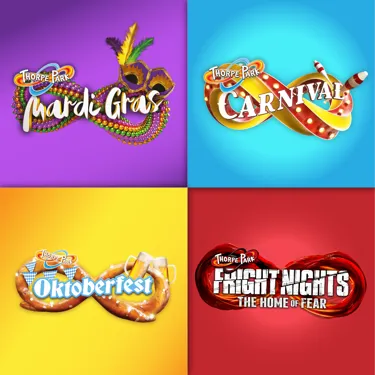 Back and better than ever, brace yourself for a new year of fun and fear as THORPE PARK Resort prepares to re-open from 25th March* for another year of thrills and a season of unmissable events.
Truly an island like no other and a must-visit for those looking to embark on an exhilarating adventure with friends and family, Thorpe Park Resort is ready to fuel the fun. So, what can you expect from the Resort like no other this season?! 
Ready, set, PRE-BOOK, go!  
With the gates to the Park set to re-open on 25th March, it won't be long before hearts will once again be racing as guests speed, twist, sweep and soar on some of Europe's most thrilling coasters and guests will be able to immerse themselves in unmissable events too!  
To ensure you have a brilliant time at Thorpe Park Resort, the required health and safety measures will be in place so you and your family can have an amazing and safe day out that you won't forget! Tickets for the 2022 season are now live and on sale on our website where you can save up to 35% off your tickets when booked in advance**. So, what are you waiting for?! Pre-book your tickets now to guarantee you a day of fun, laughter and memory-making at thorpepark.com!  
Extend Your Thrills with a Short Break  
Not only are we re-opening the park gates, we're also re-opening our jawsome THORPE SHARK Cabins. Extend your adventure with an overnight stay; these quirky self-contained Cabins are conveniently located within Thorpe Park Resort so you're always just a stone's throw away from the thrills. Overnight stays in the Cabins also include theme park entry, complimentary parking, Wi-Fi and more! Book that staycation now and find out more here. 
NEW! THORPE PARK Mardi Gras 
Running from 19th May to 19th June and BRAND NEW for 2022, Mardi Gras is coming to Thorpe Park to kick off the season of celebrations! Spice up your life as THORPE PARK Resort brings you a taste of New Orleans with our BRAND-NEW Mardi Gras event! Delivering Louisiana vibes, world-class rides, authentic street food and more beads than Mr T has gold chains, Mardi Gras is set to be the most exhilarating, fun-filled celebration you'll attend this spring. Turn up the temperature and endure the sizzling speeds of Nemesis Inferno as your legs dangle freely below 750 meters of twisted track! Then, take a break from the thrills and experience the flavours of mouth-watering Mardi Gras delights and be immersed in a variety of live entertainment excitement 
NEW! THORPE PARK Carnival 
From 22nd July to 28th August, laugh, scream, and launch into a summer like no other as THORPE PARK Resort debuts its NEW feel-good Carnival event! Ride our world-class coasters and vibe with our awesome live entertainment including a brand-new stage show that's sure to have you watching in amazement. Home to some of the world's most thrilling coasters, we'll have you launching like a human cannonball as you accelerate to 80mph in under two seconds on Stealth, then take on the twisted Colossus boasting not one, not two, but TEN acrobatic loops! Top-class rides, tasty sides and sweet summer vibes, Thorpe Park Resort is a must-visit for the ultimate day out. 
Dust off your lederhosen - Oktoberfest Is Back! 
Dust off your lederhosen and prepare to yodel louder as Oktoberfest returns to THORPE PARK Resort for another awesome autumn, running on selected dates from 2nd to 25th September! Prost! Tuck into classic German delights or chill out with a cool Stein of traditional Oktoberfest beer all whilst soaking up the atmosphere full to the brim with Bavarian beats and German treats. Then brace yourself (and your vocal cords) and yodel if you want to go faster on some of the UK's most thrilling rides! Get practising your schuhplattler as the contagious, sweet sound of oompah will once again takeover the Island to give you all the feel-good, cheerful Bavarian beats. Then swoop and soar on the UK's only winged rollercoaster THE SWARM which boasts more twists and turns than a pretzel factory! 
Feel the Fear at FRIGHT NIGHTS 21st birthday! 
Taking over the Island on selected dates from 1st to 31st October, pray you don't have the key to the door or risk unlocking your deepest, darkest nightmares as our award-winning Halloween event FRIGHT NIGHTS returns to THORPE PARK Resort for a 21st birthday celebration like no other! With no fears going untouched, you'll be sleeping with the lights on after you come face-to-face with the most horrific, dreaded and tormented terrors at Thorpe Park this fearful FRIGHT NIGHTS. Featuring spine-tingling scare mazes, truly terrifying scare zones and awe-inspiring shows, PLUS some of the UK's most thrilling rides in the dark including the world's first horror movie themed rollercoaster SAW – The Ride! 
Watch this space for more information on each event as we will be releasing further details soon! 
Europe's Most Thrilling Coasters  
The Resort's nerve-shredding and record-breaking coasters, including Stealth the UK's fastest coaster, Colossus the world's first ten looping coaster and SAW - The Ride the world's first horror-movie themed ride, are ready to ramp up the fear factor as you heartline roll, corkscrew and beyond vertical drop into the new season of unmissable events. 
UK's Wettest Theme Park  
Plunge down the super-soaking 85ft drop on Tidal Wave, get drenched on the 64ft spiralling descent on Storm Surge and play splash roulette on the Island's ferocious Rumba Rapids as you experience the UK's wettest water rides! 
Younger Thrillseekers*** 
Younger theme park fans can grab their adrenaline apprenticeship as they journey on our awesome junior coaster Flying Fish, before enjoying exhilarating rides such as the gravity defying Zodiac and a magic carpet flight on Quantum. PLUS, experience the wettest water rides in the UK including the super-soaking Tidal Wave, Storm Surge and Rumba Rapids, all set to guarantee thrills and fun! 
Thrills for a Whole Year 
Offering amazing value for those looking for regular thrills is the Thorpe Park Annual Pass! With passes starting at just £99 for a Thorpe Park Annual Pass, perks include a year's entry to Thorpe Park Resort, fantastic discounts on overnight stays, exclusive access to special offers and news plus extra perks including free parking! For more information and to purchase visit https://www.thorpepark.com/tickets-passes/passes/  
Thorpe Park Resort is open from 25th March to 31st October 2022*. Visit www.thorpepark.com for more information and to book tickets. Park tickets from £35pp when booked in advance online**.  
ENDS 
*Thorpe Park Resort is open from 25th March to 31st October 2022. Visit our website www.thorpepark.com for details of opening dates and opening times as these vary throughout the season. For those looking to extend the thrills and make it a staycation, why not book an overnight stay in the on-site Thorpe Shark Cabins. For more details and to book a 2022 short break, visit www.thorpebreaks.co.uk.   
**When booked on our website thorpepark.com. Tickets subject to availability and savings will vary throughout the season. On the day park ticket price £55pp.  
***Minimum height and other restrictions apply. Please see our website, app or on-site information boards for more information. 
Events - as always, we'll be taking the lead from the Government and following their guidance to ensure we keep everyone as safe as possible whilst making sure we continue to deliver memorable days out like no other! 
For more information please contact:  
01494 413170 
Notes to Editors  
About Thorpe Park Resort  
Take on the towering skyline of Thorpe Park Resort with seven thrilling coasters with a combined height of over 650ft. Brace yourself against an average of 4.5gs per coaster and get ready to twist and turn through 22 inversions all at Thorpe Park, Europe's most intense theme park experience.  
2022 will see Thorpe Park enter another decade of immersive experiences and unmissable events for the whole family to enjoy! With an adrenaline-fuelled season ahead, you can experience world class rollercoasters from the iconic Stealth, one of Europe's fastest and tallest rollercoasters, to the UK's only winged rollercoaster The SWARM. Endure the searing heat of Nemesis Inferno as you twist through the scorching forces and lava-laden loops of this intense and volatile volcanic voyage before getting a super-soaking from the 85ft plunge of Tidal Wave. Where else can you enjoy all of this alongside a variety of shows, attractions and exciting events? Pre-booking tickets in advance on our website is essential to ensure you guarantee your entry to the most thrilling amount of fun you'll have this year. www.thorpepark.com   
Getting to Thorpe Park Resort  
Thorpe Park Resort, Staines Road, Chertsey, Surrey, KT16 8PN  
Train: Staines Station is just 32 minutes direct from London Waterloo   
Bus: On open days a shuttle bus runs between Staines Station and Thorpe Park Resort every 15 minutes. Alternatively, both the 950 and 951 buses get you right up to the gates.   
Follow us on social media:  
Instagram: @thorpeparkofficial  
TikTok: THORPEPARK  
Facebook: @thorpepark  
Twitter: @THORPEPARK  
YouTube: THORPE PARK Resort Official  
About Merlin Entertainments  
Merlin Entertainments is a global leader in location-based, family entertainment. As Europe's Number 1 and the world's second-largest visitor attraction operator, Merlin now operates 130 attractions, 20 hotels and 6 holiday villages in 25 countries and across 4 continents. Merlin's purpose is to deliver memorable experiences to its 67 million guests around the world, through its iconic brands and multiple attraction formats, and the commitment and passion of its c.28,000 employees (peak season).   
See www.merlinentertainments.biz for more information and follow on Twitter @MerlinEntsNews.