ISLAND RETURN GUARANTEE
If weather affects the ride offering an hour or more continuously during your visit, you can return for free on selected dates. Only applicable on online pre-booked entry tickets.
What happens if weather impacts ride availability?
On occasion, conditions can disrupt our rides and attractions. In some cases, we have to close certain rides to ensure the safety of our guests. We cannot predetermine ride closures, but we will provide real-time updates on the Thorpe Park App. 
If parkwide ride availability is disrupted by more than an hour, you can benefit from our Island Return Guarantee. This means that you can return to the theme park another day, to enjoy your favourite rides.
Island Return Dates
Visitors to the park on the following dates are eligible for a free return visit:
2022
6th September
23rd October
2023
How to redeem our Island Return Guarantee
Please check above to see which dates are eligible for our Island Return Guarantee. If you visited the Theme Park on a relevant date and have retained your original ticket, you can organise a free return visit by pre-booking your new visit date here.
You must pre-book a slot to reserve your place for the day. On the day of your visit you need to exchange this for a physical ticket at the Island Ticket Centre (outside of the main entrance by the car park) in order to gain entry to the resort. You also need to bring all original ticket evidence so this can be verified. Failure to provide all required information may result in full walk-up price being charged for your entry.
Which dates can I return?
You can pre-book your return visit for a selected number of dates during the 2022/2023. Dates are subject to availability. Plan ahead to avoid disappointment!
What about my maze/Fastrack packages from the 23rd October?
If you have pre-booked maze tickets/packages or Fastrack for the 23rd you can do either of the following:
If you want to visit during FRIGHT NIGHTS 2022:
- Bring your original booking to the Island Ticket Centre on your chosen 2022 FRIGHT NIGHTS date and we will re-issue your maze tickets or Fastrack.
If you are going to be visiting in 2023:
- Email customer.services@thorpe-park.co.uk with your order number and we will process a refund of your maze tickets or Fastrack.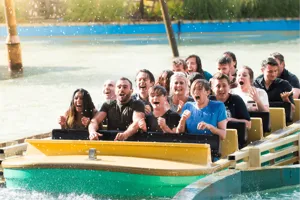 Prepare for the Great British Weather!
We advise guests to check the weather forecast before your visit, and to wear appropriate clothing and footwear
As Thorpe Park Resort is mostly outdoors, we recommend that visitors come prepared for wet weather
Lockers are available at several locations around the theme park, so you can store extra layers or a change of clothes
If the forecast is for warm and sunny weather don't forget suncream
If the weather catches you by surprise, you can purchase ponchos and suncream at any theme park shop
Terms & Conditions
The Island Return Guarantee excludes the following ticket types:
Car Park tickets, Accommodation (including THORPE SHARK Hotel stays), Fastrack, Bounceback or VIP Experience tickets, any THORPE PARK Resort or Merlin Annual Passes visits, Schools, pre-organised events, corporate discounted tickets, park buy-outs, Merlin's Magic Wand tickets, open dated tickets, two day open-dated tickets, 1 Day Tickets purchased on the day of your visit, tickets purchased using third party reward loyalty points and pre-booked coach trips.
Should it rain on your return visit, tickets will not be transferable and you will not be entitled to a further Island Return Guarantee.
No cash alternative is available, tickets cannot be sold.
The Island Return Guarantee cannot be used in conjunction with any other offer. The Island Return Guarantee must be used within the same season as your original visit, unless dates are specified otherwise.  Thorpe Park Resort reserves the right to alter or remove the Island Return Guarantee at any time.
Car parking fee and park regulations apply. The Island Guarantee Return calendar will be updated every week.
At select times of the year Thorpe Park may offer Afternoon Tickets.  Afternoon tickets purchased ahead of the date of your visit are included as part of the Island Return Guarantee, however entry will only be granted on a like for like a basis, e.g. if your original ticket permits entry from 2pm onwards then your return visit will be accepted from 2pm onwards as well.