Thorpe Park Resort​
Exclusive Thorpe Shark Cabin Benefits​
​ There are so many great advantages to staying on an official Thorpe Park Resort short break. Take a look at some of the jawesome benefits below.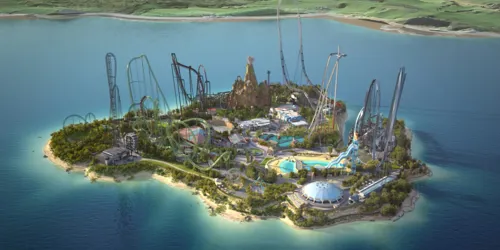 ​ Includes Theme Park Tickets
Guests staying on an official Thorpe Park Resort short break get 2 day theme pack tickets included! 2 day theme park entry is only valid when the theme park is open on both days of your stay. Breaks with Unlimited Fastrack get one day theme park entry because they're either side of a park closed date, but include Unlimited Fastrack instead!​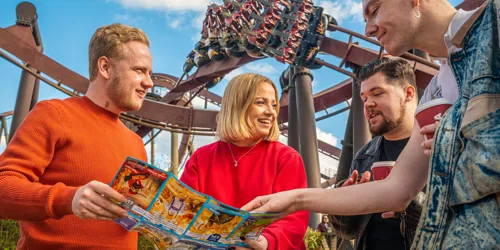 One Hour Fastrack​
Don't miss this exclusive perk! As a Thorpe Shark Cabins guest, you get one hour of Fastrack between 10am and 11am on all days apart from day of arrival. Fastrack allows reduced queueing time on all Fastrack rides. If the Park is closed on your 2nd day, this benefit is not valid. One hour Fastrack is only valid for guests staying at the Thorpe Shark Cabins.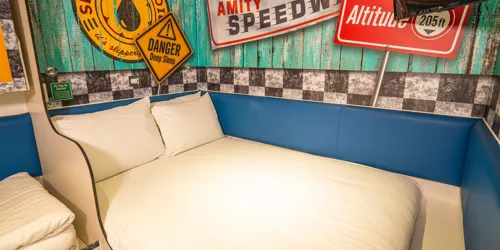 Themed Rooms​
NEW for 23! We've launched themed rooms with 3 ride themes to choose from – THE SWARM, Stealth and Nemesis Inferno! Rooms feature ride concept art and plenty of hidden facts, plus get Unlimited Fastrack on the ride that matches your themed room on your 2nd day! Unlimited Fastrack is only valid on the ride that matches your room theme. For example, if you are staying in a THE SWARM themed room, your Unlimited Fastrack is valid for THE SWARM ride only. The Unlimited Fastrack is valid on your 2nd day, and if the ride availability is disrupted by more than two hours, we will offer you an alternate ride(s). This will be advised on the day and subject to availability. Talk to reception to upgrade.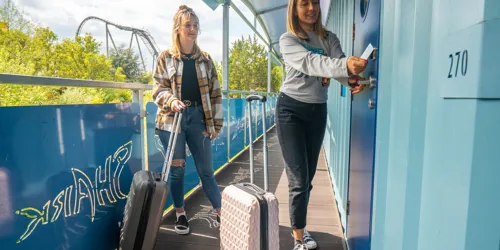 Steps Away From The Rides​
You can't get any closer than staying on Thorpe Park island! The Thorpe Shark Cabins are located just off the shores, so you're seconds away from some of the UK's most thrilling rides.​
Free Parking​
We have your parking covered – just follow the signs for hotel parking,​
Discounts
A saving of 10% off snacks and merchandise will be offered to valid Thorpe Shark Cabins guests in participating shops at Thorpe Park Resort. The saving is only available to guests wearing a valid Thorpe Shark Cabins wristband. To receive the saving, you must present a valid hotel wristband (which must be worn) to a member of staff at the outlet prior to paying.​
​
Delicious Breakfast
Fuel up for your adrenaline-filled day with breakfast included in all packages. Booking is required. 
Things To Do
The evening quiz takes place in Vibes Bar & Kitchen two and a half hours after rides close, for example, if the rides close at 5pm, the quiz is at 7:30pm. There is no charge to take part in the quiz and booking is not required (the evening buffet will still need to be pre-booked as usual). Places are available on a first come first served basis. Prizes are subject to change.​
Book With Flexibility​
We know that plans can change, but don't worry, with all of our short break packages you can amend your stay up to 7 days before your arrival date – or add our Cancellation Protection for extra peace of mind, so you can amend or cancel your booking up to 3 days before your arrival date.
Resort benefits, extras and offers are subject to change and availability. Full terms and conditions can be found here.​