Season Passes
Thorpe Park Gold Annual Pass
*A THORPE PARK Annual Pass entitles the holder to admission to THORPE PARK Resort only from the date of redemption for 12 months excluding:

8th-10th April 2023
30th April 2023
1st May 2023
28th-29th May 2023
27th - 28th August 2023
28th-29th October 2023
31st October 2023
Park closure days

Free Parking
Enjoy other benefits, including "Bring A Friend For Less" tickets on selected dates & theme park shop discounts
Thorpe Park Gold Annual Pass Renewal
*A THORPE PARK Annual Pass entitles the holder to admission to THORPE PARK Resort only from the date of redemption for 12 months excluding:

8th-10th April 2023
30th April 2023
1st May 2023
28th-29th May 2023
27th - 28th August 2023
28th-29th October 2023
31st October 2023
Park closure days

Free Parking
Enjoy other benefits, including "Bring A Friend For Less" tickets on selected dates & theme park shop discounts
Give someone a whole year of thrilling rides, attractions and events

*A THORPE PARK Annual Pass entitles the holder to admission to THORPE PARK Resort only from the date of redemption for 12 months excluding:

8th-10th April 2023
30th April 2023
1st May 2023
28th-29th May 2023
27th - 28th August 2023
28th-29th October 2023
31st October 2023
Park closure days

Free Parking
Enjoy other benefits, including "Bring A Friend For Less" tickets on selected dates & theme park shop discounts
Annual Pass Gift Vouchers
Looking for the perfect theme park gift? Purchase an Annual Pass gift voucher and receive a Christmas card with a year of unmissable thrills inside!
Buy Now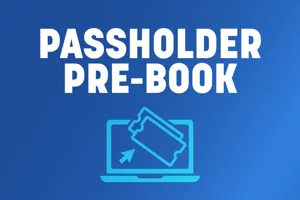 Passholder Pre-book Tickets
All Passholders must pre-book their admission and present both the reservation and their valid Pass at the turnstiles
Please kindly be advised that these are an additional and separate allocation from our standard online tickets. Standard exclusion dates apply to your pass.
Book Now
Annual Pass Benefits
Bring a Friend Tickets
Up to 5 of your friends and family can join you for a bargain day out! Your guests don't need to be Annual Pass holders, but they'll wish they were! This must be purchased in advance and collected at the park entrance by the Pass Holder. Available on selected dates only.
Discounted Hotel Stays
Annual Pass holders can extend the fun with a discounted overnight stay. Save up to 20% off short breaks at The Thorpe Shark Hotel. Please note: Customers must have a valid pass at the time of booking and during their stay.
Additional Perks
Thorpe Annual Pass holders enjoy a range of other perks, including - Free Parking, 20% discount off retail merchandise and selected Food Outlets. T&Cs apply.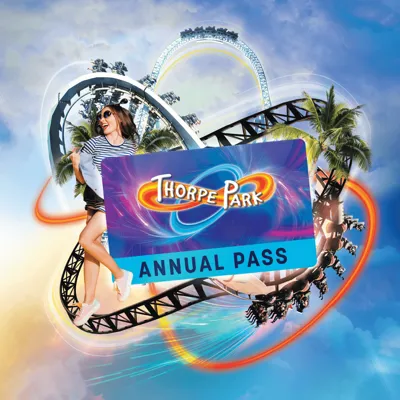 Why buy an Annual Pass?
For just £119, you can visit again and again for 12 months and enjoy all the excitement of the theme park season. Visit as many times as you like, from park open through to Fright Nights (with some dates excluded). 
Perks of Theme Park Annual Pass
Access thrilling rides, attractions and events including Fright Nights*.
Free Parking
Fantastic discounts on overnight stays
Exclusive access to special offers and news
Bring your friends to Thorpe Park with you for just £20pp on selected dates
*The Thorpe Park Annual pass excludes selected dates across the the 2023 theme park season. Find out more.
Annual Pass Calendar
Download your 2023 calendar here. This calendar includes the dates of our events, as well as exclusion dates. 
Please note: All current Thorpe Park Annual Passes purchased before 10th November 2022 are considered Thorpe Park Gold Annual Passes in terms of benefits and exclusions. 
FAQs
Renewals are only available for passholders whose current Annual Pass is either within 6 weeks of expiring or has expired within the last 6 weeks. 
There are just 15 dates across the whole of the 2023 theme park season that you will not be able to enter the theme park for free using this Annual Pass.
These dates are 8th - 10th Apr, 30th Apr, 1st May, 28th - 29th May, 27th - 28th Aug, 28th - 29th & 31st Oct 2023, and park closure days. 
All our Annual Passes are valid from the date of issue for 12 months. If you purchase a gift voucher it will be 12 months from the point of redemption.