THE UK'S PREMIER HALLOWEEN EVENT
CAN YOU HANDLE THE HALLOWEEN HORROR?
For two terrifying decades FRIGHT NIGHTS has preyed on your darkest fears and nightmares, spewing horrific creatures from their cruel domains to take over THORPE PARK Resort. This October, brace yourself as the UK's premier award-winning Halloween event returns for a fearful celebration!
Be absorbed into the chilling atmosphere that awaits you before taking on some of the UK's most thrilling rides in the dead of night, but beware – FEAR is lurking around every corner. 
Watch in amazement as you witness the new awe-inspiring fire and light display - LEGACY and get your heart racing as you venture through spine-chilling scare zones. For true fear-seekers, take on our infamously terrifying scare mazes*.  
Prepare to launch into darkness on Stealth - the UK's fastest coaster; experience the twisted torment of Colossus - the world's first ten looping coaster and take on the sick and twisted games of Jigsaw on SAW - The Ride.  
Join the Thrillmakers to celebrate 20 YEARS OF FEAR at THORPE PARK Resort FRIGHT NIGHTS on 8th, 9th and 10th October PLUS every day from 15th – 31st October 2021.
*Scare mazes require an additional paid ticket.
Please note: All FRIGHT NIGHTS experiences and attractions are recommended for ages 13+.
Thorpe Park Halloween Tickets
FRIGHT NIGHTS 1 Day Ticket
One day theme park entry
11 full hours of horror fuelled Halloween fun - experience live scare attractions
Backed by our Island Return Guarantee
SCARE ZONES & EXPERIENCES
SCARE SHOWS, ROAMING CREATURES & RIDES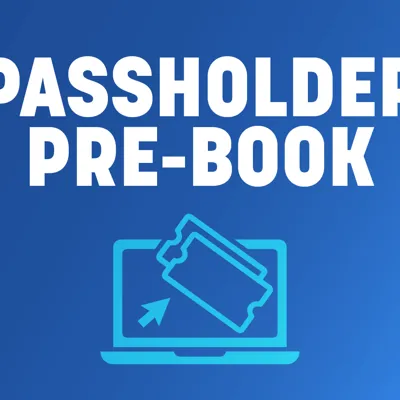 Passholder Pre-book Tickets
All existing Passholders must pre-book their admission and present both the reservation and their valid Pass at the turnstiles.
Please kindly be advised that these are an additional and separate allocation from our standard online tickets. Standard exclusion dates apply to your pass.
Book Now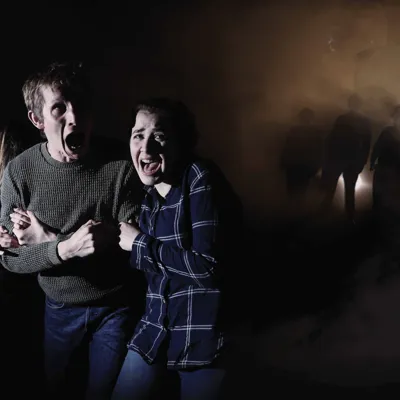 Annual Pass Restriction Tickets
If your Annual Pass excludes dates during FRIGHT NIGHTS, you can still visit at a discounted price from just £15!*
Remember, you must present your valid pass with your Eticket on arrival - failure to do so will result in paying full walk up gate price.
*Dates subject to availability.
Book your tickets for the ultimate theme park Halloween event. 
Forget pumpkin carving or spooky storytelling, Halloween is a time for terrifying thrills. 
Every FRIGHT NIGHTS day ticket includes the chance to take on our scare experiences and rides in the dark. Or if you're feeling brave why not upgrade to a Halloween short break to extend the thrills and chills. Scare mazes require an additional ticket.
FRIGHT NIGHTS FAQs
When is Thorpe Park's Halloween event?
FRIGHT NIGHTS takes place on selected dates throughout October and November, including October Half Term. This year, the theme park will be open from 10am till late 8th -10th October & 15th October – 31st October.
What time does FRIGHT NIGHTS start at Thorpe Park?
During our annual Halloween event, Thorpe Park is open from 10am-9pm. Most scare experiences and horror mazes are open from 3pm until late. 

What is the FRIGHT NIGHTS age limit at Thorpe Park?
Unlike some other theme park Halloween events, Fright Nights does

not

promise family fun or face painting. We recommend that our scare experiences are unsuitable for children under the age of 13.
Can guests wear Halloween costumes to FRIGHT NIGHTS?
You are welcome to come to Thorpe Park in fancy dress, to take part in the UK's premier Halloween event. 
Where can I find more information about accessibility for guests during FRIGHT NIGHTS?
FAQs
Yes! Park tickets include FRIGHT NIGHTS scare zones, roaming creatures, and shows. Note: scare mazes require an additional paid ticket.
Your ticket will include access to some of the UK's most thrilling rides in the dead of night as well as awe-inspiring live-action experiences and spine-chilling scare zones. True FEAR-seekers can also take on the Island's infamously terrifying scare mazes - please note an additional paid ticket is required to experience our mazes. 
Maze tickets are currently unavailable - sign-up to our newsletter to be notified when they are released.
The horror festivities kick off from 3pm, these will be in designated areas across the park and are recommended for Fearseekers 13 years and older. Note: actors may roam outside these areas.
In preparation for our fearful festivities the following rides will close at 2pm; Timber Tug Boat, Lumber Jump and The Rocky Express. Rumba Rapids will close at dusk and Depth Charge will close early to prepare for LEGACY – A Fire and Light Display, see times in the THORPE PARK app on the day of your visit. All rides are subject to availability.
All valid Premium Merlin Annual Pass (Legacy) and Platinum Merlin Annual Passes are eligible for a free ticket to Fright Nights.
Gold Merlin Annual Pass and Thorpe Annual Pass are free on all dates excluding 30th & 31st October 2021.  
Entry can be pre-booked here.
A restriction discounted ticket must be purchased for all valid Standard Merlin Annual Pass (Legacy) and Discovery Merlin Annual Passholders. Passholders must also show their valid pass on arrival with their e-ticket to be permitted entry - failure to do so will result in paying full walk up gate price.
Restriction discounted tickets can be purchased here.
As always, we operate in accordance with Government guidelines to help keep us all safe. At this time, social distancing is still in effect, and therefore it is a requirement that all of our guests, including Passholders, pre-book tickets to visit our attractions. We will update you if and when this changes, however in the meantime we will continue to ask all guests to pre-book just in case.
All FRIGHT NIGHTS attractions are fully wheelchair accessible except for Platform 15: End of the Line – this is due to the nature of the outdoor terrain.
No, the Ride Access Pass is not in use for any FRIGHT NIGHTS attractions. All other rides are operating under the standard Ride Access Pass. Note: scare mazes require an additional paid ticket, where you will be issued a time allocation; therefore, the Ride Access Pass is not needed. 
No, every guest must buy a separate timed ticket for access to any scare maze.
All activities are in-line with current Government guidelines, we will continue to monitor any changes to these guidelines and adapt as necessary.
We recommend wearing a face mask in all indoor spaces, we will continue to monitor any changes to these guidelines and adapt as necessary.