Derren Brown's Ghost Train:
Rise of The Demon
Are you brave enough to come face to face with the Demon as it rises from the darkness?
Take your one way ticket on a horrifying train journey into the chilling depths of the unknown. With intense live action and thrilling physical effects, the grasp of the Demon awaits on this demonic dark ride.
Sinister surprises lie in every detail of this unique theme park ride.
This attraction is scheduled to re-open on the 17th May 2021.
Ride overview
Immersive theme park experience
You must be at least 1.4 m to ride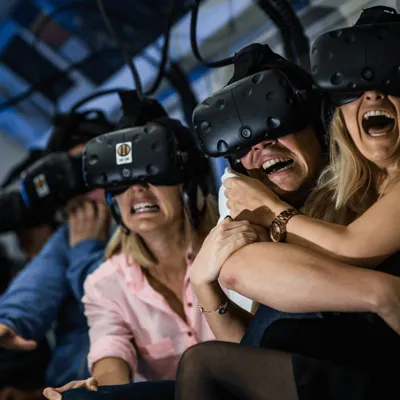 VR Ride Experience
Derren Brown's Ghost Train: Rise of the Demon is a truly immersive experience, leading thrill seekers through a series of chilling train carriages. Bringing together live action, VR experience and a hologram of Derren Brown himself, this scary ride is unlike any classic ghost train.
Climb aboard the Victorian train, suspended 3m in the air, and journey through time. Riders find themselves in the "real world": an uncannily familiar scene on the London Underground. Unlike some virtual reality coasters, this ride experience was designed with VR at its core. Without the need for any G-force or high-speeds, this dark ride will make you scream whilst barely moving!
Sinister surprises lie in every detail of this unique theme park ride, so you'll have to come and see for yourself!
Choose your ticket
Entry to a day of exhilarating fun on the Island Like No Other
Includes thrilling rides, attractions and live events
Backed by our Island Return Guarantee
Derren Brown's Ghost Train Reviews
"The effect is truly terrifying, and once again it's because of the elision between the physical realm and the virtual one."
- Wired
"The new live actor element improves guest experience. Length of ride to queue ratio is still brilliant! Technology used is incredibly clever. 8.2/10"
- Theme Park Incorporated
"True to form, Derren Brown's Ghost Train is indeed excellent [...] Derren Brown's Ghost Train is the best execution of VR at a Theme Park we've experienced to date, and it's presented and themed to a very high standard indeed."
- Total Thorpe Park
"Scientifically proven to get hearts beating at more than 180bpm [...] the new VR content on the Ghost Train is as immersive as it is creative. [...] If you love a good scare and your blood pumping, look no further."
- Surrey Live
Did you know?
There are 12 different versions of the virtual reality ride experience, with two different endings. So you may face a very different virtual world to your friends!

The ride experience lasts from 13-15 minutes.

The ride uses HTC Vive VR Headsets combined with Nokia OZO Virtual Reality Filming to provide the most immersive experience possible.
Please Note: This horror ride attraction is not suitable for those under the age of 13 and those who suffer from motion sickness, dizziness, psychological or neurological disorders. 
Derren Brown's Ghost Train opens throughout the season from 12pm until park close.