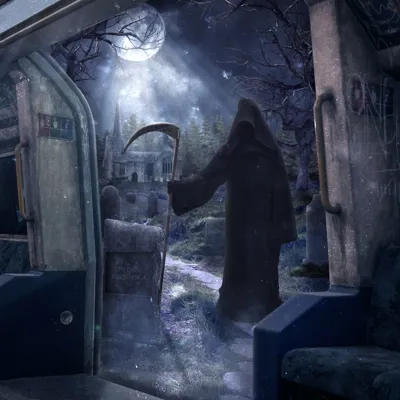 Say your final farewell...
Depart the mortal world on a one-way ticket beyond the veil into darkness on THORPE PARK Resort's newest immersive experience – Ghost Train. But watch your tracks, death is always one stop ahead.​​​​
This next generation of Ghost Train will take you on a harrowing journey into the realms beneath THORPE PARK Resort to where the supernatural believers call home. Ghost Train is one of the UK's longest ride experiences featuring live actors and multisensory effects to create a terrifying attraction like no other! ​​
There's nothing virtual about this petrifying experience, so prepare to meet your maker as you come face-to-face with horrors that dwell within.
Ride FAQs
Ghost Train open from 12pm each day. Timed tickets are not required, a live queue time will be displayed at the ride entrance and via our app.
Passengers must be a minimum of 1.3m tall to ride. Due to the intense nature of the experience, we advise riders to be aged 13 or over, this is at the rider/parent/guardian's discretion.
No, there's nothing virtual about this petrifying experience!
Yes, live actors are featured throughout the experience.
Wheelchairs may be taken into the ride; however, the user must be able to transfer onto a ride seat and be able to walk unaided. We are constantly looking at ways to make our rides more accessible and we will update via our website and app should any changes occur in the future. ​
You cannot currently purchase Fastrack for Ghost Train, should this become available in the future we'll update this section and make tickets available to buy. Please note, Island Unlimited Fastrack package does not include Ghost Train.  
Yes, Ghost Train has a dedicated Ride Access Pass entry. You will need to present your ID card alongside your Timecard – this will be marked.