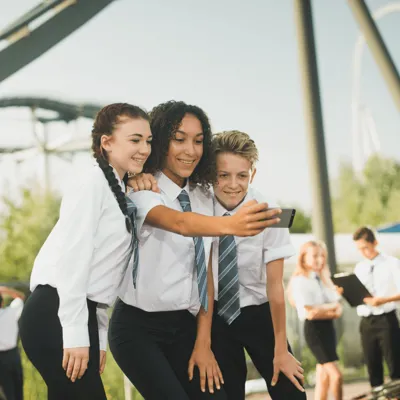 Learn more about our secondary school trips
With thousands of school students visiting every year, Thorpe Park relies on this experience to support schools before, during and after their visit.  We know that organising a school trip for an entire class or more can be quite a challenge, so we do everything we can to take the hassle out of the teacher's hands and help you arrange a perfectly smooth school trip.  Why not start planning your students next unforgettable learning opportunity now?
Book Now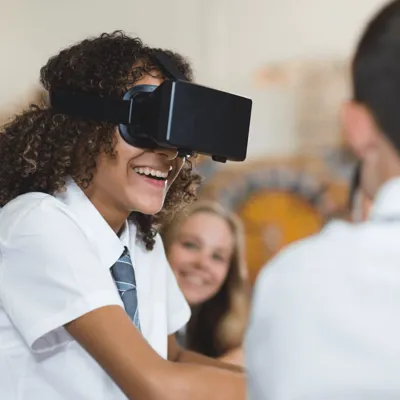 Looking for ideas for a Secondary School Trip?
We offer a variety of education activities and workshops
We have two exciting educational activities that are aligned to the National Curriculum in various subjects including:
1. Digital Education Challenge App activity
Suitable for: KS3 – 5
Sessions length: 1 hour (outdoors). One mobile phone per 6 people is required to download the app.
Topics: App covers questions in Maths, Science and General Knowledge.
Cost: £1pp (each student is required to pay for the app, although only one person needs to download it on the day).
Description: You can book our "Digital Educational Challenge" app activity which students can download on their mobile phone. Students will be asked to complete a set of educational challenges in groups of no more than six.  Students can roam the park on the day and answering fun and education questions relating to Maths, Science and General Knowledge as they go. Each group will be competing for the best score against the other groups in your school. 
2. Education Speed Lesson 
Suitable for: KS 2 - 5
Session length: 20 minutes (outdoors).
Topics: Maths, Science or Marketing & Business
Cost: £3pp (includes free One Shot Fastrack)
Description: The Thorpe Park Resort Education Team offers a 15 minute "Speed Lesson" in Maths, Science and Business/Marketing for £3pp. Each workshop includes an educational talk outside one of our main rides.  Content is aligned with the National Curriculum and you can choose between Key Stages 3 – 5. Students will also receive a fast track ticket after their talk so that they can experience the ride once the lesson has finished. Maximum 18 students/teachers per time slot, however we run multiple time slots per day.
We also offer Educational Resources to support your pre-visit and post visit learning within various subjects. You can download them all here.
Book Now