£20 Student Saver Returns
Wednesday September 6th 2017
Jordan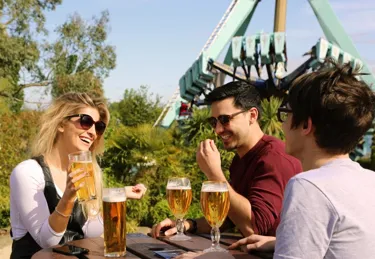 You guys absolutely loved our student offer back in June, so we thought we'd be nice and bring it back as a special Freshers treat for September. For those who don't know – until 28th September you can use your valid Student ID to nab yourself a £20 ticket for a day out at the park with us. And if the savings aren't enough to tempt you, here are some more reasons why this is a pretty sweet deal.
NO QUEUES
Well…not none exactly, we can't guarantee that. But September is one of our quietest times. Summer is over and FRIGHT NIGHTS hasn't quite begun, so it's the perfect time to take advantage of shorter queues and fit in as many rides as possible.
Freshers/Reading Week
Not that we'd EVER encourage you skipping classes, but we're well aware that the start of September means students like yourself have a LOT of free time to fill, might as well grab your mates and spend one of those precious free days until term starts getting your coaster face on!
Bonding
If you've just moved into halls or are even catching up with Uni mates after a summer apart, a day out at a theme park is a great chance to bond with people and really go to know the real them. And, if after a day riding coasters it turns out you hate each other, at least it only cost you £20 for the privilege.
Clear your head
Yh, you've just had the whole summer to do this technically, but with the smaller crowds at the park in September and fun rides to let loose on it's a great last chance to clear the cobwebs ready for the term ahead.
So there you go. Loads of reasons to visit this September! Not that we think you need convincing or anything. See you soon!
Until next time Islanders,
Jordan
Official THORPE PARK Resort Blogger