5 Reasons why a Season Pass Makes Sense
Tuesday January 29th 2019
Michael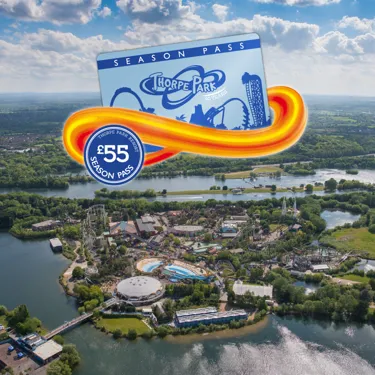 Our first Passholder's day will be held on Saturday 23rd March. Still dubious about buying a Season Pass? Think it's a clever ploy for us to own your souls?
Think again with these 5 reasons why a Season Pass makes sense…
Your 2019 season sorted!
Grab a season pass today and your 2019 season is sorted! Over 30 rides and attractions to enjoy as well as special events, news and discounts!
Special offers and news straight to your inbox…
Passholders are the first to hear what's going down on The Island Like No Other.
20% discount on hotel stay
Passholders get an exclusive 20% discount at the Thorpe Shark Hotel! Our cosy corner of the park where you can put your head down between adrenaline filled days! And remember, when you book a room at The Shark, you get a FREE second day, a DELICIOUS breakfast and UNLIMITED Fastrack until 11am. Absolute winner!
Bring a mate for £15
On select days throughout the year, you can treat your mates to a hefty discount on their entry ticket when you bring them with your Season Pass. Save your friends money, take them to an awesome place and that means they'll love you forever <3 <3 <3
IT COSTS THE SAME AS A DAY TICKET!!!
Even if you visit us ONCE, it makes sense. All those benefits for the same price as a day ticket! We're not hiding anything here, we just want to give you the chance to experience as many awesome days on the Island Like No Other as you can! 
What are you waiting for? Grab yours here!
Michael
Official Thorpe Park Resort Blogger