7 TOP TIPS TO TAKE ON FRIGHT NIGHTS 2016
Monday October 3rd 2016
Jordan
7 TOP TIPS to take on FRIGHT NIGHTS 2016
It's back, the Island is changing and it's going to be our most blood-curdling FRIGHT NIGHTS yet as we celebrate 15 Years of Fear. Are you prepared? Fear not, we've put together a handy guide for you to brave FRIGHT NIGHTS 2016 like an absolute pro!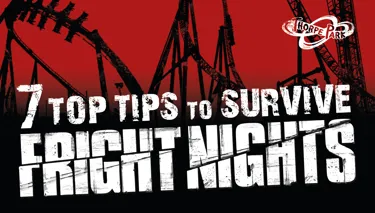 1. Arrive early
Don't be fooled by that 12 hour day, it'll absolutely fly by once you've crossed that bridge onto the Island. Arrive as early as you can to make the most out of your day. Park opens at 10AM.
2. Don't be afraid to go first
Usually everyone shies away from leading the group through our infamous horror mazes, but we'd argue that this is prime position for all the best scares! Swallow your fear and put your game face on, it really is the most exhilarating way of experiencing FRIGHT NIGHTS.
3. Get fancy
OK, we don't allow any masks that cover your face fully, but fancy dress is 100% encouraged. Pick a theme and get your group to go all out with terrifying FRIGHT NIGHTS costumes!
4. Last man standing
Even though the park closes at 10PM, most people begin heading out at around 9PM. That means the park quietens down at the end of the day leaving more space for you to re-ride your faves!
5. Coaster prime time
Mazes open from 3PM, meaning the crowds flock there and the coaster queues empty out. Try and hold off doing the mazes until slightly later and make the most of the golden hour 3PM-4PM.
6. Come prepared
Buy your tickets online and print at home if you can – this way you won't have to queue at the start of the day and can be one of the first in the queues for the rides!
7. Psych up for the scares
The best fun to be had is inside the mazes, so try your best not to chicken out. And if it all gets too much, just repeat – it's only a theme park, it's only a theme park…
That's it from us; you're on your own from here. Grab your mates and get ready for the most terrifying night of your life. We'll see you on the other side!
Until next time Islanders,
Jordan
Official THORPE PARK Resort Blogger