A Season of Experiences Like No Other!
Tuesday March 5th 2019
Michael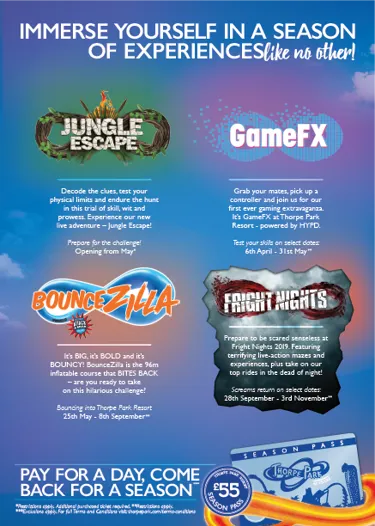 It's dropped! Our amazing season of experiences Like No Other!
As well as our fantastic rides and attractions, we've got a whole season of events that you can't afford to miss!
Kicking off the season, GameFX…
GameFX
Downloading at Thorpe Park in April is GameFX! 8 weeks of gamer heaven! Grab your mates, pick up a controller and join us for our first ever gaming extravaganza!
This is a MUST for gamers. Some of the world's biggest titles, retro gaming and immersive experiences all under one roof!
GameFX runs from the 6thApril – 31st May and you can book your slot in the gaming arena here!
Jungle Escape
Decode the clues, test your physical limits and endure the hunt in this trial of skill, with and prowess. Experience our new live adventure – Jungle Escape!
Coming Spring 2019, select only your bravest and most daring friends to face the Huntsman as you enter the challenging undergrowth of the Jungle Arena. Engage your senses, prime your wit and take on the elements as you undergo a series of testing rituals before facing off with your rivals to ultimately decide which team leaves victorious and which will be lost to the Jungle forever.
Bouncezilla
It's BIG, it's BOLD and it's BOUNCY! BounceZilla is the 96m inflatable course that BITES BACK - are you ready to take on this hilarious challenge?
Can you conquer the mighty BounceZilla? You've heard of a bouncy castle, but have you ever taken on a bouncy monster? This inflatable assault course promises to provide you and your friends with a hilarious challenge that you'll remember for a lifetime.
FRIGHT NIGHTS
With some returning classics and no doubt some new scares to keep you on your toes, we're bringing our season to a close with Fright Nights 2019! Featuring terrifying live-action mazes and experiences, plus take on our top rides in the dead of night! Immerse yourself in our frightful season finale!
What's the best way to experience all this? Ah yes, with one of these!
Michael
Official Thorpe Park Resort Blogger