A Theme Park Like No Other: Theme Park New Year's Resolutions
Tuesday December 31st 2019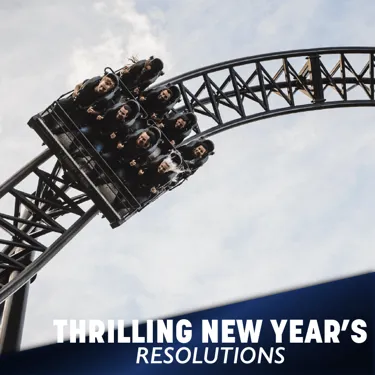 THEME PARK GOALS 2020
Why not set yourself and your friends some 2020 goals to achieve during your visits to Thorpe in 2020? These could be a collective resolution that you achieve as a group or individual goals you set yourself.  
Overcome your fears
How many times have you been heading towards a theme park, especially one you've never been to before and you feel your heart playing a drum solo in your chest? For some, just the sight of exhilarating roller coasters and rides on the horizon can bring on a cold sweat. We get that people have fears directly related to rides, especially very tall and very fast ones, but 2020 is the year for you to get over your fears and become a thrill seeking champion and we're here to help! 
Let's use Stealth as an example of how you can get over your anxiousness. The UK's fastest and joint tallest roller coaster is often considered one of the best rides in the UK and a bit of a baptism as far as rides are concerned. It's one of those rides that still makes the hairs stand up on people's necks regardless of how many times they've experienced it. Just incase you were wondering, yes - it's perfectly safe. Our rides are inspected every single day by our amazing engineering team and operated by our highly-experienced ride team. Many people remember their first ride on Stealth and the physical sensations and euphoria created by this coaster can last for hours. But did you know that Stealth only lasts around 14 seconds? Just think, as you're sitting in your seat ready for launch, that this will all be over faster than you can say, 'I don't want to do this!' but man is the payoff worth it! A new experience, incredible memories and bragging rights amongst your mates.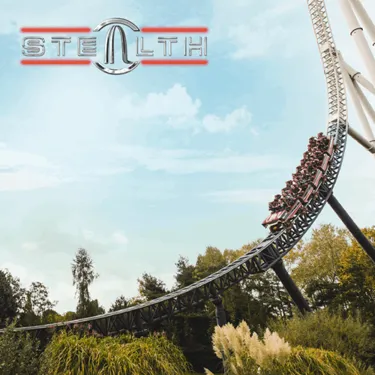 MAKE THE MOST VISITS IN 2020
We can help you with this one! Grab a 2020 Thorpe Park Season Pass while it's still on sale and clock up the visits in 2020!
From our website:
Have a whole season enjoying over 30 thrilling rides, attractions and events - regular season pass price £55
For a limited time only, buy now and receive a Season Digipass for unlimited digital ride photos - worth £35!
Bring your friends for less on selected dates
Valid from the day of redemption until 1st November 2020 with the following date exclusions: 31st July plus Fridays, Saturdays and Sundays in August, and all FRIGHT NIGHT dates
But great news! During these exclusion dates, a discounted ticket will be available for our pass holders from just £10!
AS MANY RIDES AS POSSIBLE IN A DAY
Maybe you're going for a record number of rides on one of our Big Five coasters or a thorough soaking on our water rides? Either way, 2020 is your year champ!
TRY A NEW THEME PARK FOOD
We have a cracking range of tasty treats across the resort. Did you know we also
STAY IN THE THORPE SHARK CABINS
Lots of people list traveling amongst their New Year's resolutions and the stay-cation is more popular than ever! With so much to do and see at the Resort, you'll definitely need a couple of days to take it all in. Luckily, a stay at Thorpe Park includes a second day as standard! Book now and receive up to 40% off on rooms across the whole of the 2020 season! It's the perfect way to combine your love of thrills with a cheeky get away and something to pop in the diary and look forward to!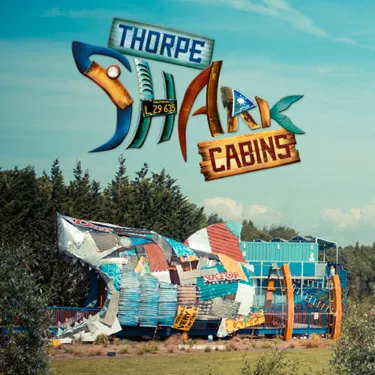 THE FAMILY THAT THRILLS TOGETHER, STAYS TOGETHER
Theme Parks aren't everyone's cup of tea… we get it (we don't really). A lot of people don't visit theme parks because they THINK they won't enjoy themselves or they have preconceptions about what they're like.
It can be tough being the only thrill seeker in the family. Of course, there's nothing wrong with going for family walks, shopping, the cinema, but what if 2020 was the year of experiencing thrills as a family? This is where you step in to demand a family trip to Thorpe Park!
Worried that there's nothing for your family in a theme park? Please don't assume that theme parks are for certain people, age groups, genders etc. It's just not the case! There is literally something for everyone at Thorpe Park! We have an amazing selection of rides and attractions that include some of Europe's most thrilling roller coasters. We welcome everyone from tiny toddlers to grinning grandparents through our gates. Introduce your loved ones to the world of theme parks and a new family tradition could be born.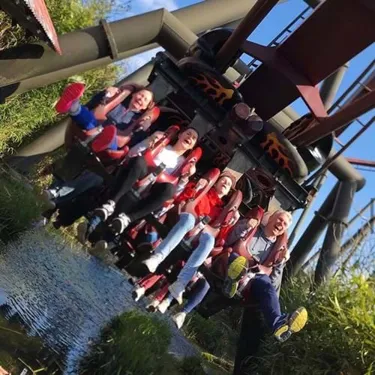 GO THE EXTRA (13) MILES
On the subject of fitness and for those thrill seekers that love a challenge, did you know that there's a Thorpe half marathon every year? The route starts in Thorpe Village, near the park and goes out into the countryside outside the M25 before returning to Thorpe Village to cross the finish line!
From the 'Run Through' website:
Join thousands of runners in chasing a personal best along the beautiful rural roads of Surrey. The Thorpe & Egham 10k and Half Marathon is open to runners of all abilities whether it will be your first race or your 50th, this fast route offers a perfect chance for a chip timed, personal best with full road closures during the event.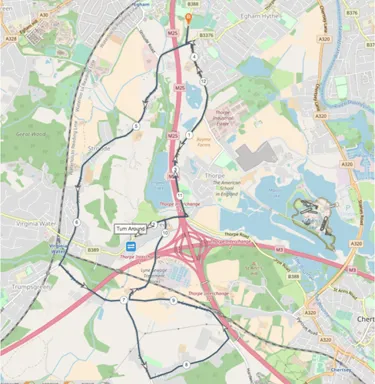 There's also a 10-kilometre run for those looking for a less intense challenge. Included in entry is a finishers medal, limited edition finishers t-shirt, chip timing and goodie bag! With a little under eight weeks to go, there's still plenty of time to train and get fighting fit! You can enter 2020's running events here!
So why not add some theme park related resolutions to the mix and get excited for the 2020 season!
Follow us on Twitter, Instagram and Facebook to keep up-to-date with everything Thorpe Park!