All signs point to the Safe Zone...
Tuesday February 13th 2018
James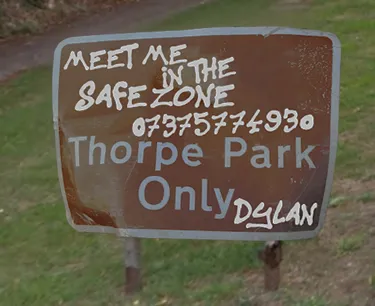 Islanders,
Once again we have some very strange things happening around the resort with the appearance of some mysterious graffiti on a road sign nearby. Captured initially on Instagram and then shared on Twitter, we need your help to get to the bottom of what's going on.
There are a few questions that we would like answered:
- Who is the mysterious Dylan?
- Where is the Safe Zone?
- Where is Dylan now?
We may have underestimated the extent of the infestation on the Island and the crusade against the dead could be about to step up a gear. If you have ANY information then please come forward and let us know.
Stay alert, survival is paramount!
James
Official THORPE PARK Resort Blogger