Awesome FREE Things to do for Families This Autumn
Wednesday September 14th 2016
Jordan
Awesome FREE Things for Families to do this Autumn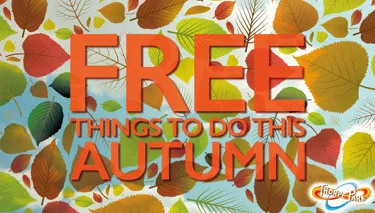 Autumn is one of our favourite times of the year. It's just warm enough to still be able to go and play outside and the colours are amazing! And the best bit? There's still plenty of ways to enjoy days out as a family without being too harsh on the purse strings. So here's a list we've put together of some of our favourite FREE (well, almost!) activities to enjoy together as a family this season.
1. Host a conker knockout tournament
You've had the fun of heading to your local Horse Chestnut tree patch and gathering some prize players, now it's time to put them to the test! Invite your friends and family around to take place in the ultimate conker championship, all from the comfort of your back garden. We've got the rules from the World Conker Championships themselves: 
http://www.worldconkerchampionships.com/rules.php 
2. Go for a walk in the woods
A walk in the woods is always an enjoyable and healthy way to spend time together, but in autumn it's extra special. Not only do the leaves and trees look incredible, it's also the perfect time to spot plenty of woodland wildlife foraging and nesting before winter falls. Grab your boots, coats and scarves and head on out! Find out where your nearest woodland is here: https://www.woodlandtrust.org.uk/visiting-woods/map/
3. Snuggle up with a good book
Living in the UK means the weather isn't always on our side. On those colder or greyer days grab your favourite book, snuggle under some blankets or cosy up near the fire and have a good old fashioned story telling session! Here are some awesome suggestions to get you in that autumnal mood: http://www.huffingtonpost.co.uk/hannah-beckerman/best-childrens-picture-books-autumn-2015_b_8256454.html
4. Collect cans for your local food bank
Autumn is a time for harvest and also a time of giving. You can help out your local community by donating any unwanted food from your cupboards to your local food bank. You can find out where your nearest one is here: https://www.trusselltrust.org/get-help/find-a-foodbank/
One of our most favourite things about Autumn is Bonfire Night! As a quick November project, gather old newspapers and unwanted clothes to make your very own Guy to burn on November 5th.  Make sure you do this with the help of a parent and be extremely careful. Here's a more in depth guide on how to put one together: https://www.trusselltrust.org/get-help/find-a-foodbank/
As we've already said, the woods are a magical place during Autumn. One really fun way to properly explore is to put together a scavenger hunt for you and your family to try and tick off. You can include anything from acorns, to leaves from certain trees to pinecones! Here's a cool activity list you can print off to help get you started: http://www.woodlandtrust.org.uk/naturedetectives/activities/2015/09/amazing-autumn-scavenger-hunt/
It's time for harvest, so grab your basket and head down to your local apple orchard to pick your own! Make sure you head there sooner rather than later, all the best ones are usually gone by mid-October. You could even make your own toffee apples once you're down for an extra autumnal treat! Here's where to find your nearest pick-your-own farm: http://www.pickyourownfarms.org.uk/
Halloween is definitely one of the best parts of autumn, so why not gather your friends and family around for a night of spooky ghost stories! Each storyteller takes it in turns and whoever tells the scariest story wins. Here's a few for the faint-hearted to start you off: http://www.sheknows.com/parenting/articles/1016713/scary-halloween-stories-for-kids
So there we go, proof that you definitely don't have to break the bank to make the most of the autumn season! Don't forget to tag us #thorpepark in all the pictures you take of your fun autumn activities so we can see what you're getting up to!
Until next time Islanders,
Jordan
Official THORPE PARK Resort Blogger