Changing Places at THORPE PARK Resort
Wednesday May 30th 2018
James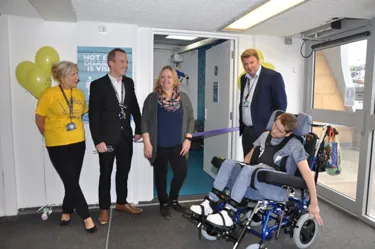 Islanders!
We've opened a brand new Changing Places facility to help improve the accessibility of the resort and ensure that every guest can enjoy a day out!
We've set this supported by our charity, Merlin's Magic Wand the new facility includes a hoist, adult changing bed, height adjustable sink, fully accessible shower and plenty of floor space to allow room for two helpers. This space is found in the dome at the resort.
Our Divisional Director Dominic Jones has said: "Ensuring everyone can enjoy a day out with us at Thorpe Park is a huge priority and installing the Changing Places facilities is an important step in our continued commitment to accessibility. We are proud to support the Changing Places campaign and this is a great new facility which will allow us to welcome many more guests to the park."
Samantha Buck who attended the opening with her 12-year-old son Alfie who has Quadriplegic Cerebral Palsy said: "We are really excited about the new Changing Places facilities at Thorpe Park as it means Alfie can be hoisted out of his chair and use a proper changing bench. It means we can now stay for the whole day instead of just a couple of hours then leaving. It is really exciting and an important move forward, there are a lot of other people too who will benefit."
Changing Places Changing Lives' is a national campaign calling for toilets with a hoist, changing bench and plenty of space to be installed in big public places throughout the UK.
For more information about Changing Places Toilets please see the http://www.changing-
places.org/
James
Official THORPE PARK Resort Blogger