Derren Brown's Ghost Train: Rise of the Demon - Service Updates
Tuesday February 28th 2017
Jordan
Derren Brown's Ghost Train: Rise of the Demon will be departing from Thorpe Junction very shortly. So, here's what we can tell you for now:
Derren Brown's Ghost Train: Rise of the Demon is going to be deeper, darker and more intense. But what does that mean exactly?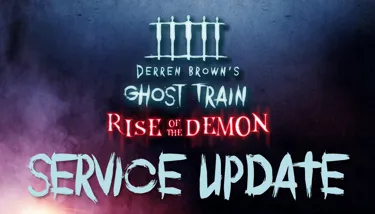 Deeper
The eagle eyed among you will have noticed that this time around we're going even deeper into the chilling depths of the unknown, both mentally AND physically. We won't go into too much detail (as we said, don't want to ruin the fun for you!) but expect to enter realms unexplored in Derren Brown's Ghost Train as your train is diverted down an entirely different route…
Darker
Yep, we heard you. Derren Brown's Ghost Train just wasn't scary enough. Looks like we underestimated just how much fear you guys can handle! We've taken a look at where the fear can be dialled up a notch for Rise of the Demon and, well, let's just say we think your thirst for fear will be quite satisfied! Nerve shattering tension is on route.
More Intense
We always want to bring you the most cutting edge tech we can in our new rides, and part of this means pioneering some of the ride technology ourselves here at the park! Parts of what make DBGT such a unique and incredible experience were actually developed during the creation of the attraction and had never been seen before at any theme park in the world. A big plus of that is that we are able to update this when newer technology becomes available, meaning a more intense experience for you.
We hope that's answered a few of your questions for now. In the meantime, continue to join in the fun of guessing what exactly is coming in Rise of the Demon and revel in the anticipation of the unknown (that's all part of the fun isn't it?!) And please, keep sending us your questions as we love to know what you think.
Until next time Islanders,
Jordan
Official THORPE PARK Resort Blogger