Every Cloud Has A Silver Lining
Monday August 1st 2016
Jordan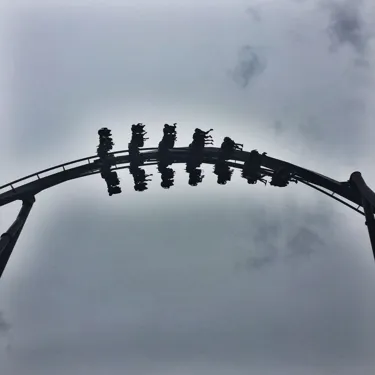 UPDATE: Please note, since the initial time of writing our Rainy Day Guarantee has been replaced by the new Island Return Guarantee - to find out more, click here.
---
EVERY CLOUD HAS A SILVER LINING
Wow, what a wash out! Seems hard to believe that it's actually June considering we've pretty much been in permanent monsoon mode for what seems like forever now. Not the best time for a day out at a theme park you might say? Well we're here with some life-changing information (well, not life-changing, but we think it's pretty cool!) – and that is our Rainy Day Guarantee!
Basically, if you pre-book your park ticket online and it rains continuously for more than one hour during your visit then you can revalidate your ticket absolutely free! You don't even have to faff about with rebooking, simply keep your paper ticket issued when you visit and present it when you come back, it's as simple as that!
There are a few excluded dates for this offer, so be sure to check back here to keep on top of things. How good is that though? No more dreadfully opening your weather app and peeking through one eye at the update in the run up to your visit. Just grab your poncho and ride out the rain safe in the knowledge that somewhere in the not too distant future you can return and soak up the sun for free!
Now, that said, there is still a TON of stuff you can enjoy in all weathers, so here's a run-down of our top DRY FIVE attractions you can check out if the weather does decide to play up:
1. I'm a Celebrity…Maze
Discover a world's first as I'm A Celebrity Get Me Out Of Here! Maze slithers into THORPE PARK Resort.
Take a walk on the island's wild side and compete for the prized star as you take on some of the most iconic trials inspired by the award-winning TV show.
Come face-to-face with the Jungle trials like the Holey Moley and the Chambers of Horror, and remember to save your energy for the Celebrity Cyclone finale!
Will you pass the Trials to become king or queen of the Jungle?
2. ANGRY BIRDS 4D Experience
Bringing the Angry Birds world alive, THORPE PARK Resort premiere's the world's first ANGRY BIRDS 4D Experience.
Sit back and enjoy high tech movie theatre surrounding and be part of the action as rumbling chairs catapult you through a fast-paced adventure as the Angry Birds attempt to get their precious eggs back from the dastardly King Pig.
Timed air gusts, water jets, leg ticklers, flashing lights, bubbles and smoke blasts will be sure to get pulses racing from start to finish!
3. X
Ride on a wave of light and sound as you experience the evolution of X, our indoor junior rollercoaster.
Thrill your senses with a race through light and sound that will plunge you into a mix of intense colour and music.
4. Storm In A Teacup
Get your whole family in a spin on Storm in a Teacup sponsored by Tetley. Hold on tight as you twirl, whirl and spin on our classic teacup ride.
5. King Pig's Wild Hog Dodgems
Go bump to bump with Red and the gang as you battle against your friends, family and the Bad Piggies in this fun-packed classic with an Angry Birds twist.
There we have it, never let a downpour get you down on a day at the Island Like No Other again, we've got you covered! Literally!
Until next time Islanders,
Jordan
Official THORPE PARK Resort Blogger