Fancy Having Thorpe Park to Yourself?
Tuesday September 10th 2019
Thorpe Park Official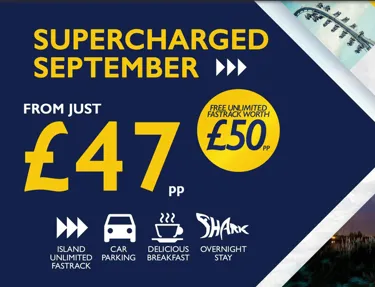 Thorpe Park is empty! Well, not entirely empty. We're still preparing to launch FRIGHT NIGHTS 2019, the UK's premier Halloween event, and we still have Europe's most thrilling collection of rides and attractions! September is a pretty great month for Theme Park fans. Take a look below at some of the awesome reasons why September rocks and why it's so good for you guys!
FIVE REASONS WHY SEPTEMBER ROCKS
TURN OVER A NEW LEAF
Look up on your way to work and check out the leaves as they go through their gorgeous change in colour from vivid greens to warm reds and browns as mother nature prepares to turn the UK into an autumn fantasy.
SEASONAL DRINKS
Three words: Pumpkin Spice Latte and many other warming drinks make their way into coffee shops and cafes to ease you into the season and prepare you for longer nights with plenty of frights!
LAYERS
Feeling a little under-dressed when you leave the house? Whack on a layer! A scarf, a jacket, a hoodie. You name it, September is the time to wear it.
Layers have also been proven to make you 15% more trendy.
CLASSROOM STARDOM
Born in September? You are automatically one of the coolest people in your class. There's something about being born on the September side of the school year that gives you credit. It's one of those unspoken laws. You know what we mean.
THORPE PARK TO YOURSELF
The BEST thing about September though (as far as we're concerned) is how quiet the park is! The kids are back at school and we're between summer holidays and FRIGHT NIGHTS. Come down to Thorpe during a weekday in September and you'll get on everything you want before lunchtime!
SUPERCHARGED SEPTEMBER
September is the PERFECT time to come for short break in one of our quirky cabins at the Thorpe Shark Hotel! With rooms from £47pp and a second day included in your package, you can be the king or queen of Thorpe Park!
Not only can guests take advantage of a much quieter park, they still get all the fab benefits of a Shark Hotel stay:
A FREE second day at the resort
A delicious breakfast included to fuel your thrills
Free Parking and Wifi
PLUS
During September, get FREE unlimited Fastrack worth £50!
Book a spooky sleepover during FRIGHT NIGHTS and get all the fab advantages of staying at The Shark Hotel PLUS horror maze Fastrack between 3pm-4pm AND a ticket to our evil escape room, Containment!