February at last!
Monday February 7th 2022
Charlotte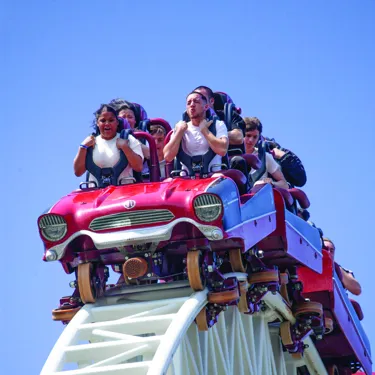 During what felt like the longest January in history, we conducted some research to find out what people's biggest thrills of 2022 were set to be – and there's no surprises that visiting a theme park was high up on the list with one in 10 excited to get tickets booked for an epic day out like no other!😏 
Over the last couple of years, having fun and enjoying activities with friends and family has been put on the back burner for many, in fact nearly two thirds of the British public felt like their lives have become dull and repetitive. Well we can't be having any of that!🙅 Luckily we're here as Europe's most thrilling theme park to take you on an adrenaline-fueled, excitingly-epic, white-knuckle (all the synonyms) adventure during our 2022 season of unmissable events!🎢 More to come on this very soon! 
Within our research, 61% of our survey participants said they want to rediscover a passion for life; 43% said they will get their thrills by going on holiday and more than one in 10 said visiting a theme park is how they're going to rediscover their passion for life! Well look no further! You know where this is going… book a short break to our unique THORPE SHARK Cabins and combine your holiday desires and theme park dreams all in one place! Duh💁 
PLUS, our Bargain Breaks short break package is set to bring you ALL the thrills you're longing for from just £139 for two people*! 🦈 What's included in the package I hear you ask? LOADS! An overnight stay, unlimited fastrack (yes UNLIMITED!)*, theme park entry, exclusive access to Black Mirror Labyrinth (check you guys out)*, plus much more, a Bargain Breaks short break will help you reignite that going-on-holiday-feeling, those feel-good vibes and create memories that'll last a lifetime all without having to break the bank. 
Money-saving and advanced planning is high on the priority list for many, so it'll be music to your ears when we say pre-booked park tickets start from just £35pp* and staycations from just £139 for two*! But if it's repeat visits and multiple fun-fueled days out you're after then a Thorpe Park Annual Pass will give you a whole year of entry, lots of passholder perks and the forever sought out free parking #winning💪 
Well, what more can we say Thrillseekers. Forget the monotony of pandemic life, that's sooo last year (we hope🤞), seize the day and visit us for an extraordinarily epic escape! 
With less than two months to go until we re-open for another epic season of thrills, chills, rollercoaster screaming and faces beaming, we cannot wait to welcome you back to the Island like no other! 
Until next time Thrillseekers✌️ 
Charlotte  
*Terms and conditions apply. All figures correct at time of publishing. Tickets subject to availability and savings will vary throughout the season. On the day park ticket price £55pp. Thorpe Park Resort is open from 25th March to 31st October 2022. Visit our website www.thorpepark.com for details of opening dates and opening times as these vary throughout the season. For those looking to extend the thrills and make it a staycation, why not book an overnight stay at the on-site Thorpe Shark Cabins. For more details and to book a 2022 short break, visit www.thorpebreaks.co.uk. 
Day tickets: https://www.thorpepark.com/tickets-passes/day-tickets/ 
Thorpe Park Annual Pass: https://www.thorpepark.com/tickets-passes/passes/thorpe-passes/ 
Bargain Breaks short breaks: https://www.thorpebreaks.co.uk/thorpe-park-offers/bargainbreaks.html 
Research was carried out by Censuswide between 10th and 12th January 2022 with 2,000 respondents.