Free Things To Do In The Easter Holidays
Tuesday April 4th 2017
Jordan
Wow, can you believe that it's Easter next week! Feels like only yesterday we were moaning about how we wished the closed season would hurry up and be over. So, what's Easter all about? Egg-painting? Hunting for chocolate? Making Easter bonnets? There's literally tons of activities to get stuck into over the Easter Holidays, but we wanted to take the time now to put together a list of awesome things you can do for FREE to make the most of your time off!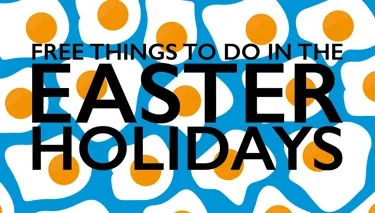 Spring Clean!
Ok, we know what you're thinking, cleaning is the absolute worst. And for the most part, we'd agree with you. But it doesn't have to be that way! Not only will you feel super light and fresh once it's all done and you've gotten rid of some clutter but there are also lots of ways to make a game of it – Mary Poppins style! So now you have no excuse.
Farmyard Fun
Everyone loves some animal antics, and unlike zoos, many local farms tend to be free to enter. And Spring is the BEST time to visit because there's lots of baby animals running around. Plus, these farms usually have tons of Easter Holiday activities going on and educational talks about the animals, so it's the day out that keeps on giving. You can check out some free to enter farms here, or just do a quick Google search to find one in your area.
Visit a Museum
We all know museums are mostly free to enter anyway, but during the Easter Holidays they put on extra free activities for kids! Whether you're into dinosaurs, science or even something niche like the history of marbles, you can pretty much guarantee there's a museum for it somewhere in the country! You can check out the full list of free museums and art galleries in the UK here.
Visit Thorpe Park!
Yep, if you book before May, kids go free when staying at the THORPE SHARK Hotel! That works out just £43.75pp based on four sharing. Better yet, you can upgrade to an overnight stay from your park day ticket for less than the price of a KFC Family Feast bucket. Now that's value!  
Get Crafty
Chances are, after your spring clean you'll have uncovered lots of empty toilet roll tubes and boxes, maybe even some long lost craft materials. You'd be surprised about how many weird and wonderful things can be created out of a cereal box, some pipe cleaners and some PVA glue! Why not create a mini puppet theatre out of a cereal box and put on a puppet show? The possibilities are endless, and perfect for when the weather inevitably turns sour.
Green Fingers
You have a few options here: you can either have a dig in your own back garden and see if you can create some gardening magic, OR you can head to your local Dobbies who offer FREE gardening workshops for kids! You can find your local store by just doing a quick search on the website.
So, no excuses to get busy this Easter Holiday! Before you know it you'll be back to school and wondering where the time went, so make the most of it whilst you can.
Until next time Islanders,
Jordan
Official THORPE PARK Resort Blogger