FRIGHT NIGHTS Now Open
Wednesday October 4th 2017
Jordan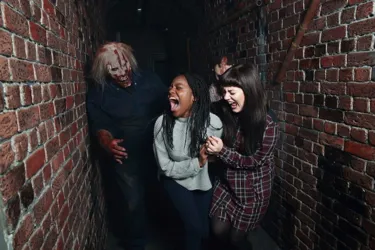 Safe to say summer is officially over and screams of horror can be heard echoing from the Island like no other after dark – FRIGHT NIGHTS is finally here! After 16 years of fear we thought it only right to up our game with TWO brand new mazes as well as the return of some frightful old favourites – with a few added twists to keep your hairs stood on end.
Sit back and put your scare pants on, because we're about to give you the low down on the park's horror mazes for FRIGHT NIGHTS 2017!
The Walking Dead: Living Nightmare
We take it by now that you've various videos (including one of yours truly) of unknowing victims collectively wincing their way through our brand new indoor maze for 2017. Based on iconic scenes from The Walking Dead – including the first ever appearance of the notorious Negan – this is definitely one for hardcore fans of the show to geek out over! With Easter eggs aplenty, hidden rooms and multiple Walker-infested routes to take, The Walking Dead: Living Nightmare is the absolute must-do maze at this year's event.
Top Tip: Make sure you take time to try and discover the secret rooms for an extra layer of terror!
The Walking Dead: Sanctum
And then there's The Walking Dead: Sanctum, Living Nightmare's all the more brutal and sadistic sister maze. All hopes of salvation are dashed as soon as you approach the blood covered settings and realise that all is not as it seems. An outdoor attraction, this is best experienced during the day if you're of a slightly more nervous disposition. And with the residents of Sanctum having a craving for a slightly more malicious menu, prepare to fight for your life if you want to make it through to the other side for some night rides on The Swarm!
 Top Tip: visit after dark for a more extreme experience
Platform 15
Prepare to jump on board the sinister Sleeper Express for its second year of service…this year with an entirely more morbid destination. If you thought last year was terrifying just wait until you see what the haunted souls have in store for you this time round! You may have outrun them previously but this season they want vengeance and are ready to punish anyone daring to enter the forbidden railroad.
Prepare yourself for the endless journey to your fate….
Top Tip: Beware of the house in the woods…
SAW Alive
FRIGHT NIGHTS wouldn't be the same if we didn't invite good ole' Jigsaw. He and the brutal Billy puppet are picking out their victims once again. Weave your way through Jigsaw's lair and escape the clutches of his sadistic traps.
It's almost time once again make the decision if you live or die. Well, are you ready to play the game?     
Top Tip: The inhabitants of SAW Alive are cut from an entirely more sadistic cloth this year. Consider yourself warned.
The Big Top
STEP RIGHT UP and feast your eyes on the most iconic duo within the circus ring… The Figaro Bros. The creepy clowns have re-emerged from under the gutter and moved back into the freaky Big Top circus. We regret to inform you that our fortune teller cannot take anymore bookings, but don't worry we're here to take over: Oh no, it doesn't look good!  The spirits are calling to us and they've warned that you're in for a shocker! Once you enter The Big Top your future is DOOMED!
Trust us it won't be fun and games. At least not for you anyway…
 Top Tip: Don't let the clown's tricks play with your mind too much
Well, we've done all we can to save you Islanders.  Grab your tickets quick and we'll see you there. And remember, the Island changes after dark…
Until next time,
Jordan
Official THORPE PARK Resort Blogger