How To Survive 12 Hours At A Theme Park
Monday October 17th 2016
Jordan
The THORPE PARK Resort Guide for Surviving 12 Hours at a Theme Park
That time of year is almost here again where you can spend literally all day with us for FRIGHT NIGHTS! If this is your first time tackling this most gargantuan of thrill seeker tasks, don't worry, we've got you covered. Brace yourselves as we count down our top tips to surviving 12 HOURS of theme park fun!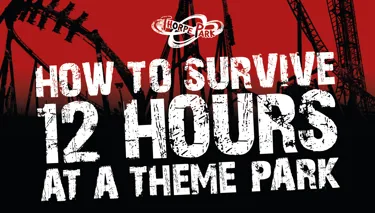 1. Pace yourself
For the love of god, pace yourself! You've got 12 hours to soak everything in, so the last thing you should do is let the adrenaline get the better of you and racing around the park riding as much as you possibly can. One step at a time…Fastrack to the mazes can sell out quickly during Fright Nights, so if you have a favourite, grab some Fastrack at the start day, which start from £5.
2. Plan our your day
It's a good idea to make a rough schedule of how your day is going to pay out. Figure out where you want to be and at what time and try and stick to it as much as possible! Remember the Fright Nights Birthday Party will take place at 3pm everyday by Tidal Wave.
3. Take plenty of time to recharge
12 hours at a theme park is a pretty exhausting day out, so make sure you're allowing yourself loads of time to sit out and refuel, maybe some refreshments and take the weight off of your feet for a bit. Quenchers are a great way to keep yourself dehydrated!
4. Alternate between high-thrill and low-thrill activities
Trust us, there's nothing worse than going hell for leather and ending up feeling sick for the rest of the day. Take it easy, and balance your time between coasters and kiddie rides. Rumba Rapids is a sight for sore eyes after hours of solid coaster riding! If you bring a packed lunch, check out the secret Stealth Gardens, a great place to settle down and enjoy the bustle of the Park.
5. Bring a coat
Yes we know we're not your mum, but seriously bring a coat and thank us later. 12 hours on park in October means it can get pretty cold as the sun goes down. Grab a jacket and you'll feel more comfortable to keep on riding. If you don't want to haul it around with you all day, remember you can put it in our lockers which are under the dome and cost £xx to use.  If you need to warm up check out some of the indoor rides, including Derren Brown's Ghost Train, and Angry Birds 4D Cinema.
6. Snacks, snacks, snacks
We can't stress this enough – 12 hours is a LONG time to be on the go, so pack plenty of snacks and drinks to munch of throughout the day to stop yourself from flagging.
7. Comfortable shoes!
This goes for any day out at a theme park, but even more so when it's one as long as this one. Ditch the brand new trainers or heels and sling on your reliable old favourites. Nobody wants blisters whilst they're trying to get their coaster on!
Those are our top tips. Follow these closely and we're sure you'll survive your marathon day of thrills!
Until next time Islanders,
Jordan
Official THORPE PARK Resort Blogger