INFINITE THRILLS: THE PERFECT VALENTINES GIFT
Monday February 10th 2020
Charlotte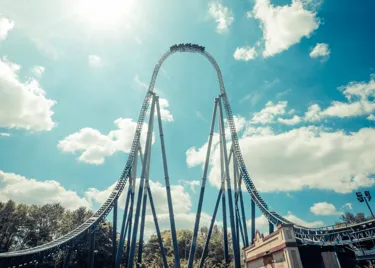 Valentine's Day, a day to show our loved ones how much we really love them - usually shown through presents of chocolate, bouquets of flowers or a dinner 'somewhere nice'. Let's face it, these would all be happily received; however, these presents won't last long. A box of chocolates = eaten, flowers = last around a week and dinner = well a few hours out and then you're back home wishing you'd not eaten so much!
Are you trying to wrack your brain for a unique present that will not only show how much you love and appreciate your partner, but would also last a little longer than a week? Get them the gift that'll keep on giving - a Thorpe Park Resort 2020 Season Pass!
Lots of laughter, quality time together and memories made are moments we all cherish and LOVE, a Thorpe Park Resort Season Pass can give you all that without breaking your bank balance!
And if you're feeling extra generous this Valentine's Day, a Premium Thorpe Park Resort Season Pass will, of course, give you entry to the Resort for our 2020 season along with exciting perks such as unlimited access throughout summer, entry to six Fright Nights dates and free car-parking for the season (worth £30)!
Better still, for a limited amount of time only, when you buy a Premium or Standard 2020 Thorpe Park Resort Season Pass you'll also receive a free Digipass (worth £35) for the season to digitally capture the priceless memories you'll make.
PLUS if you've left it really last minute, you can even buy Season Pass Gift Vouchers! #winning
Don't buy a gift that's cliché, buy your loved one a Season Pass today!
Until next time Thrillseekers
Charlotte