Introducing: James Abraham
Tuesday January 15th 2019
Michael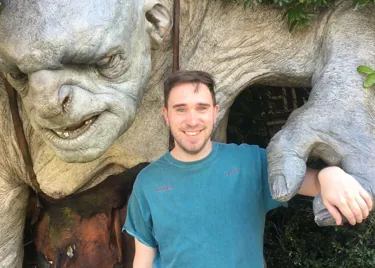 JA: Hello! I'm James,  I'm the Creative Executive at THORPE PARK Resort. I've worked with Merlin since 2012. I started as a Rides and Attractions Host at Alton Towers then joined THORPE PARK in 2016 and worked on the launch of Derren Brown's Ghost Train before joining the Marketing department in 2017.
TP: Nice to meet you! What are your day-to-day responsibilities in your job?
JA: My main responsibility is design. I design the things you see from when you walk into the Park like the map, the signage plus promotional material you see outside of the park. I also work alongside the Marketing team on season events such as Zombie Hunt, Love Island Lates and FRIGHT NIGHTS.
TP: Cool. How did you get involved in this line of work?
JA: I studied advertising at university. I've always been a big theme park enthusiast so after uni it seemed like the right industry to enter.
TP: A passion for the industry seems important?
JA: You've got to get your foot in the door somewhere. Don't expect your first job to be your dream job. Find a way in and do that job well first before you start spreading your wings, then work towards the job you really want to do.
TP: What has been your favourite piece of design?
JA: As everyone knows for FRIGHT NIGTS 2018 we had a lot of new attractions, and they all needed new logos and designs. I'm really pleased how all everything came together to make it a coherent look and feel. I've been involved in the look and feel of our new app, which is looking really slick! Also, some of the 2019 design is looking great, it's very fun and fresh 😉
TP: Where do you get your inspiration?
JA: From everything really, of course from other theme parks but we should always look to do our own thing with our own unique twist. A lot of inspiration comes from other team members and talking to people in the business, bouncing ideas and of course a lot of ideas come from deep within my mind!  
TP: Well we loved your work over FRIGHT NIGHTS and we can't wait to see your designs for the 2019 season!
JA: Thanks!
As James shows, people come from all sorts of backgrounds to make up a theme park family. Do you want to be part of it?
Michael 
Official THORPE PARK Resort Blogger