Introducing the Terminus Burger
Saturday September 16th 2017
Jordan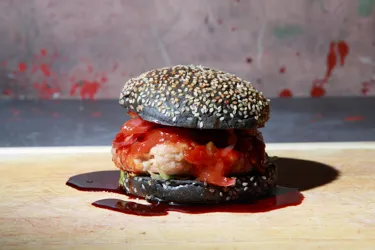 What would FRIGHT NIGHTS be without some sort of delightfully disgusting food offering? In previous years we've challenged you to devour a mountain of ribs like a maniac and earlier this year we teamed up with Creams Café to bring you the Derren Brown's Ghost Train freakshake!
But this year we've really outdone ourselves: presenting the Terminus Burger.
To celebrate the launch of our two new FRIGHT NIGHTS attractions: The Walking Dead: Living Nightmare and The Walking Dead: Sanctum, our wonderful head chef has concocted this little delicacy. Inspired by the globally phenomenonal series and the 'tainted meat' from the infamous Terminus, the Terminus Burger is made from pork, turkey and blood clot relish to recreate a… 'unique' flavour that you just can't put your finger on.
The burger will be available on select dates throughout FRIGHT NIGHTS and despite its ghoulish inspiration is actually pretty damn tasty!
Until next time Islanders,
Jordan
Official THORPE PARK Resort Blogger