The Big 5 Review
Tuesday April 18th 2017
Jordan / Coral Primmer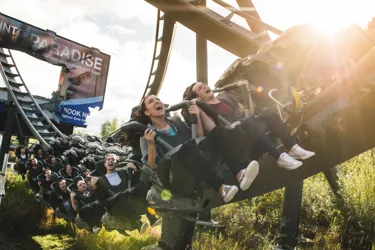 So today we have a very special guest - roller coaster expert Coral Primmer (Age 10). Coral visited the park recently and wanted to give us the low down on what she thought of our Top 5 coasters, so we thought we'd let her take over the blog for a day! Here's what Coral had to say: 
THORPE PARK Resort has many different attractions from family to thrill. There is something for everyone!! Having a "world first" coaster is not easy and many theme parks do not have one. THORPE PARK Resort, who has a "world first", is one of the most popular theme parks in the UK. Today I will be reviewing their Big 5!
Nemesis Inferno
Based around the original ride "Nemesis", this fire hot ride that everyone refers to as Nemesis Inferno was never meant to have the title that it has today! Do you think you know everything behind this ride?? Well, if you don't listen in!
Rumour has it that this ride was originally meant to be themed around its sister coaster. The idea was: the monster from Nemesis had dug underground and had travelled to Thorpe Park. Shortly after the plans had been made there was a fire. This damaged rides and attractions from around a certain area of the resort. Due to this fire, they decided to retheme their new ride around the fire. Then Nemesis Inferno was born!
Stealth
Get your race cars ready! Go, Go, Go!!
If you look it up in a dictionary Stealth means quite calm and cautious in action or movement. Well you can throw that information out of the window!!! To this ride all it knows is: Go, launch, win, repeat! You stand NO chance of winning against this racing machine!! Before this non-stop racing machine used to have a higher chance of rolling back once it got to the top. Few people managed to experience this but many videos had gone viral and many people got to see this happen. Later it stopped rolling back and just swiftly rolled over the top! This ride is the highlight of THORPE PARK Resort and I highly recommend it!
SAW: The Ride
Time to get spooky with Saw!!!
Yes, many of you might have seen the movie and no, I haven't because I am only 10. This ride is well known for its drop as shown in the picture below. Based around the movie, I think, during the que line there are traps with manikins inside. While queuing inside the building there is a gun sound that goes off every once in a while. Some people (such as me, haha) jump when the sound goes off. For fun, sometimes staff members jump out behind the corner when you come to queue inside. There are 2 carts: one has a special surprise while the other, cart 1, misses it. When I go on I normally sit in cart 2. NO SPOILERS!!
Colossus
Strap yourselves in because it's about to get loopy!! Being a world first is difficult for many people, but being a world first ride is something else! Colossus is a world first 10 looper! This ride might make you feel dizzy or throw up but it's worth it! This ride is possibly the best looper in the Resort!! With its looping theme music and themeing this is one of the best!! I am sure many people disagree but hey, it's a brilliant coaster!
THE SWARM
Woah!!! To this coaster aliens are real!!! Buckle yourself in we are in for a treat!
Have you ever thought about "flying on a roller coaster"? Well here at THORPE PARK Resort you can!  The resort offers you a chance to 'fly' while sitting down! The Swarm is a wing coaster that is themed around aliens taking over the Resort. During the queue line, there are TVs that show:" Breaking News" of the monsters taking over. It has: the news reporter telling you about the damage, interviews with citizens and much more. With outstanding themeing this coaster will forever remain one of the most loved coasters at the Resort.
Conclusion
Over all the big 5 are some of the most loved coasters in history!!! Me and many others think THORPE PARK Resort is one of the best theme parks in history!! I hope you liked my reviews on the rides and hope you visit the park soon!!!
That's it for Coral's review - we think you'll agree she got it pretty much spot on! Thanks so much to Coral for submitting this review for us to share with you and we can't wait to welcome her back to the Island soon.
Until next time Islanders,
Jordan
Official THORPE PARK Resort Blogger