The dead invade the Island...
Tuesday September 5th 2017
Jordan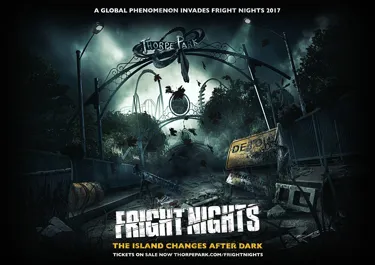 Well, we've kept you waiting for long enough and we are incredibly excited to announce that The Walking Dead will be invading the Island after dark for FRIGHT NIGHTS 2017!
We've secured an exclusive deal with the US television network AMC to launch TWO brand new live-action horror mazes based on the globally renowned TV series to coincide with the premier of The Walking Dead Season 8, launching on 23rd October at 9PM on FOX and is the landmark 100th episode.
So, onto the juicy stuff – mazes! First up is an indoor maze called The Walking Dead: Living Nightmare where you'll experience the terrifying iconic scenes of the global phenomenon, including the world's first live attraction featuring scenes from Season 7.  You'll join the survivors on the brink of death at the mercy of the notorious Negan.
And in The Walking Dead: Sanctum, you'll take on a live-action outdoor mission. Following in the footsteps of survivors, you'll have to navigate your way past the roaming walkers or risk being captured.
Dominic Jones, Divisional Director, at Thorpe Park Resort said, "Fright Nights is THORPE PARK Resort's biggest event of the year, and we're hugely excited to bring the worldwide phenomenon that is The Walking Dead to our visitors. Each of the two specially built mazes are absolutely terrifying and are definitely not for the faint hearted."
We'll give you a moment to pick your jaw up from the floor…
If that's not all, returning to this year's FRIGHT NIGHTS  the legendary Big Top circus is rolling back into town, more sadistic antics from Jigsaw in SAW: Alive and the return of Platform 15 including brand new terrifying scenes.
We're SO EXCITED for you to come down to the Island after dark to get your yearly fill of fear. We can't tell you how hard it's been to keep this all under wraps and are just DYING (pun intended) to see you from September 29th.
Until next time Islanders,
Jordan
Official THORPE PARK Resort Blogger