The Fearmakers Behind FRIGHT NIGHTS - Part II
Tuesday October 31st 2017
Jordan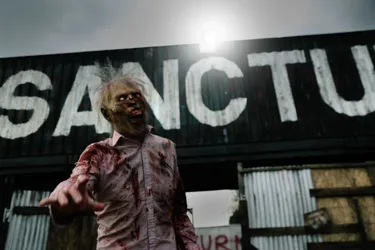 Last week we caught up with Matt Boswood on how we operate FRIGHT NIGHTS here at THORPE PARK Resort, but what about actually designing and creating the attractions in the first place? We had a chat with the team at Paragon Creative to find out more!
What is your full job title and how did you get to where you are today?
My name is Jonathan Bonner and I'm Development Manager for Theme Parks and Leisure at Paragon Creative. I've been a big fan of the attractions industry for as long as I can remember and was lucky enough to get a marketing role at Paragon a number of years ago. I now head up sales and development of our theme park and attractions projects. My job is generally a mixture of finding new projects and clients that Paragon might be able to work with, and then acting as the client's main point of contact during the project design and build phases.
What's the best bit about your job?
I love the theme park industry so I get a kick out of being a part of it every day. I also hugely enjoy working with the talented designers, artists and engineers at Paragon Creative who bring these immersive experiences to life around the world. Also talking about zombies in great detail on an almost daily basis has been fun!
Have you visited FRIGHT NIGHTS as a guest previously to working on it yourself and if so what has been your favourite attraction?
I'm slightly embarrassed to admit that I've not actually attended Fright Nights as a guest before working with Thorpe Park! I have however previously visited Alton Towers' Scarefest, Universal's Halloween Horror Nights and a number of 'haunts' around Europe so know the 'haunted attraction' industry very well. Paragon Creative also built both SAW: Alive and did the theming for SAW: The Ride at Thorpe Park (albeit a little before my time).
What's it been like creating an attraction based on one of the biggest IPs in the world?
When Thorpe Park first told us that the IP was going to be The Walking Dead, we were thrilled. Recreating such iconic environments from a show like this is really fun, but it also comes with a great responsibility.  As big fans of The Walking Dead, we knew how important it was that we got the details just right; particularly with the way the set-works look so that they are authentic to those iconic scenes from the show. This was particularly the case in Living Nightmare, whereas we had a little more creative freedom creating Sanctum, which is a new environment not seen in the show.
What is the creative process like for a task like this – where do you even begin?
We started early conversations with the team at Thorpe Park around January. Once we found out the IP, we then began throwing a few ideas around on what we might be able to do with the space. In order to present our initial ideas to Thorpe Park we actually created a brief storyboard in the style of the original Walking Dead comic books. Once we were contracted, we started to draw up a shortlist of locations we wanted to include in the indoor maze, as well as potential layouts and a rough narrative to tie it all together (The idea of Living Nightmare being that when Negan swings his barbed wire clad bat Lucille, your life flashes past your eyes, hence all the environments from earlier seasons of the show). We then firmed up these designs through multiple theme books that both Thorpe Park and AMC signed off at each stage. Build started around six weeks before opening and we finished up on September 22nd (minus a few scenic and technical tweaks). The team at Thorpe Park was very helpful throughout the entire process, acting as a soundboard for our ideas and providing assistance and operational advice every step of the way. A collaborative approach is essential for a project like this.
Sanctum was a little looser in its creation. The aim of this was to give the actors a canvas to be able to form their characters– almost as a piece of very intense theatre. We kept the narrative fairly loose for this reason. The maze itself is a mix of scenically treated off-the-shelf items and bespoke props (and lots of gore!)
What has been the biggest challenge?
As Fright Nights is a seasonal event, the project timescales are generally quite tight, so being strict with the programme was very important. There is also always the challenge of creating attractions that do both the IP and guest expectation justice within the allocated budget. I think we delivered on both of these fronts in collaboration with Thorpe Park.
Have you experienced the mazes in full show mode yourself as a 'guest'?
Yes, I was lucky enough to experience both attractions on the day that AMC came to inspect the mazes which was very rewarding to see in show mode. It was also the first time the actors had worked in the space and it was fascinating to watch them initially explore the space and experiment with different scare techniques.
What's your favourite bit of the mazes you've created this year?
I think the encounter with Negan in Living Nightmare is an obvious choice and recreating that infamous scene from the TV show was really fun. I also love the school bus that guests must pass through, which was our Creative Director David's idea to include.
What happens if something you've designed doesn't work out in practice?
If this occurs, our aim is always to be as flexible as possible in this critical final phase of the project. Our Project Manager Chris and his team were very reactive to last minute scenic and tech amends that were required once the main installation was complete and the actors started rehearsing in the spaces.
If you had unlimited budget for FRIGHT NIGHTS, what would you do?
My initial answer would be bigger sets, a longer experience, more actors, and more special effects. But I think there are other ways we could push the boundaries of what a scare attraction can be. Using new technologies amidst the physical sets, adding one-on-one isolated encounters with actors and experimenting more with multiple paths to make a maze truly repeatable are just a few elements that could add to the overall experience of a horror maze. I won't say much more though as we're keen to explore new ideas with Thorpe Park and want to keep them a surprise for guests.
And with that we say goodbye to FRIGHT NIGHTS for another season! We've had an absolute blast scaring the pants off of you in our mazes this year and can't wait to do it all over again in 2018.
Until next time Islanders,
Jordan
Official THORPE PARK Resort Blogger