The Hunt Is On!
Tuesday July 24th 2018
Mike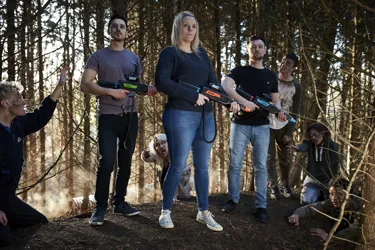 You know when there's so much going on you don't even know where to begin?! That's this week on the Island Like No Other.
We had our first successful Zombie Hunt! Brave thrill seekers chased the undead through the woods and protected the Island from a full on Living Nightmare. Hunters LOVED the humour and nostalgic feel we brought to the action and once they had a taste for blood, they couldn't resist coming back to make sure those zombies had been dispatched.
Saturday saw our first ever THORPE PARK Resort Pop Swap! For those of you who don't know, pop badges are tradable badges from across the whole of Merlin.
People go crazy for these things, like completely obsessed! You don't know fear until you've seen a pop badge fan marching towards you searching for a rare badge. People were popping and swapping all over the shop and some lucky guests walked away with exclusive badges that haven't even been released yet…#WINNING.
As if Zombie Hunting and trading pop badges weren't enough, we're taking full advantage of these beautiful balmy evenings, staying open until 10pm every Thursday - Sunday throughout summer. Have you ever been on one of our coasters as it's getting dark and seen the stars as you climb the lift hill? A completely different experience and one we know you'll love.
Speaking of summer evenings, Love Island Lates starts THIS Thursday! Join us on our beach for games, grooves and grafting and make your own island memories. The long hot summer is only just beginning and it's going to be a scorcher…
Finally! We want you to have the best day possible on The Island Like No Other, so please, PLEASE remember to drink plenty of water, get in the shade when you can and use sun screen!
Because we're a caring bunch, we're providing free sunscreen (SPF30) at the following locations around the resort:
Amity Beach, Stealth, THE Swarm, Tidal Wave and Saw: The Ride
Slap on the sun screen, stay hydrated and have a fantastic day at THORPE PARK Resort!
Mike
Official THORPE PARK Resort Blogger