THORPE PARK meets Tobin Bell
Thursday September 21st 2017
Jordan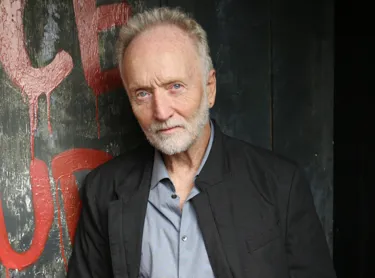 There comes a time when you truly appreciate what a weird and wonderful job you have when you work at THORPE PARK Resort, and yesterday night was definitely one of those times. We were lucky enough to be joined by the legendary Tobin Bell, AKA John Kramer from the Saw franchise!
Between scaring the pants off of a few lucky punters in the SAW Alive horror maze here at the Resort we managed to grab him for a few questions.
The new movie from the Saw franchise Jigsaw hits cinemas on October 26th where you're reprising your role as John Kramer – are there any sneak peeks you can give us or favourite bits you can talk about?
Some of the performances in the film are quite remarkable. Matt Passmore and Laura Vandervoort who plays Anna and in the film give some very powerful performances. I think it'll be a thrill ride for not only our old fans but a whole host of new fans. Millennials who couldn't get into the theatre the last time we made the Saw films so I'm quite looking forward to there being a new group of people who have seen Saw.
How often do you get recognised as John Kramer?
Fairly frequently. Saw fans are always enthusiastic and very warm and friendly. Coming into the park there was a whole host of people! Horror fans are very dedicated people so when you play the guy in seven films – of course now eight – you get recognised quite a lot!
Have you ever kept any of the props from set? And if so which ones?
Yes I have kept a couple of props from set. I don't know if you know but John Kramer held a small Chinese warrior in his hand at the end of SAW 3 and it's a warrior from the Terracotta Army. I particularly liked that piece – it was very nicely done in jade. I have that piece on a shelf – and a mini Billy on his tricycle.
If you were to design a SAW trap what would it be and how would it work?
You know honestly I haven't thought about that because we have these amazing special effects people that do all of that work. As an actor I spend most of my time trying to bring some sense of humanity to John and that's a full time job as it is. I leave those aspects to those departments.
What advice would you give to guests facing their fears at FRIGHT NIGHTS this season?
Bring a friend! Bring a friend and keep your hand on their shoulder as you pass through the dark…it's not an easy journey. But hopefully you'll enjoy it – it's unique I'll say that much!
So there you have it – we've impressed the man himself with our terrifying FRIGHT NIGHTS antics so that can only mean one thing – you're next! Get yourself down to this year's event to get your yearly dose of fear.
Until next time Islanders,
Jordan
Official THORPE PARK Resort Blogger