THORPE PARK Resort Top Tips by Kip Hakes
Monday November 28th 2016
Jordan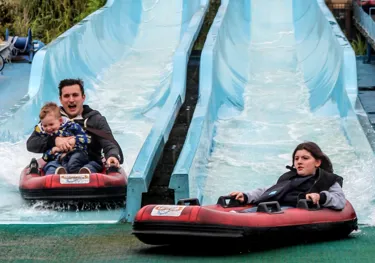 For this week's blog post we invited special guest blogger Kip Hakes to share some of his top tips for tackling the Island Like No Other with a family! Take it away Kip…
Hi! I'm Kip Hakes, and I'm a blogger ambassador for THORPE PARK Resort. I've been frequenting the Island Like No Other for years. I went when I was a child and now I take my children there too! Whilst THORPE PARK Resort is best known for its bevvy of scary rides, it's actually a great place to take even the tiniest of thrill seekers. My white knuckled 4 year old and 13 year old have had great days out there. I genuinely couldn't count how many times I've taken them both over the years! With that in mind - I think I've come up with some top tips to ensure you have a great day out!
1 - Get to THORPE PARK Resort when it opens
This may sound like common sense, but so many folks rock up to the park later in the day and find it's busy and the queues are longer. If you get there for when the gates open you can usually squeeze in a handful of rides before the queues start to increase. Also, it's wise not to head straight to the 'new' ride; everyone will be doing that. Get a few rides under your belt first!
2 - Consider a THORPE PARK Resort Annual Pass
If you're fairly close to the park and think you might visit a few times in the season, grab a THORPE PARK Resort Annual Pass. Although the outlay for them seems high initially, they often have them on offer which puts them at the same price as on the day tickets. With an Annual Pass you don't have to queue at the ticket booths or faff with vouchers, you just breeze through the Passholders turnstiles! You can then visit the Resort as many times as you like throughout the season. As well as this, Passholders get 20% off dining and gift purchases across the park - which brings the cost of meal-times and souvenirs right down!
Talking about dining...

3 - Grab an early lunch
If you've followed tip 1, your tummy might be rumbling earlier. That's great! It's always advisable to grab an early lunch. Inferno's Pizza Pasta restaurant can get crazy busy after 1PM; if you're there when it opens at 12PM it's quieter and there's usually no wait for a table! Also Fin's Bar and Grill is a cracking place for a more 'chilled' lunch - it's got a decent kids menu and a good selection for grown-ups too!
4 - Be a Fastrack Ninja!
Generally the rides aimed at younger children don't ever get massive queues so you shouldn't need a Fastrack. The only exception to this is X, the indoor coaster. It's a popular family ride and the queues can get long. If the queue is long, just treat yourself to a Fastrack for that - you'll slash your waiting time and have more time for other rides.
5 - Plan ahead!
If you've never visited THORPE PARK Resort before, take a look online beforehand at the park, see what rides are there and which are suitable for your family. Create a rough plan of which rides you and the family can go on. All the height restrictions are there so you you'll have some idea of what everyone can and can't go on. If you get a feel for the park layout before you've been you can spend more time enjoying it and less time being buried in a map. Also, if you've not gone for an Annual Pass, there are good savings to be made buying tickets online in advance.
6 - Don't let the rain put a dampener on your day
If you've been planning your big family day to THORPE PARK Resort for months and it gets to the big day and it's throwing it down - don't be disheartened. Grab a couple of THORPE PARK Ponchos on the way in and carry on as normal. You can take a break from the elements with a ride on X, a scare on Derren Brown's Ghost Train, or a giggle in Angry Birds 4D. Also, don't forget that a wet day on park is invariably a QUIET day on park and you'll fly through the rides in record time!
7 - Extend your day with a night away!
THORPE PARK Resort is home to the fantastic THORPE SHARK Hotel. I've stayed there before, and it offers great 'bite sized' accommodation. If you stay at the Hotel you get a cracking breakfast in Fin's Bar and Grill in the morning and unlimited Fastrack until 11am. It's extremely competitively priced and has cute, cosy rooms for all the family.
Hopefully some of these tips will help you maximise your day at THORPE PARK Resort and you'll create some fantastic memories like I have. What are some of your top tips for a great family day at THORPE PARK Resort?
We hope you enjoyed our first guest post from our awesome adrenaline junkie dad Kip Hakes. You can check out his blog here, keep an eye out for his THORPE PARK related content!
Until next time Islanders,
Jordan
Official THORPE PARK Resort Blogger