Thorpe's BIG 4-0 – The big, enormous, giant, humongous, great week!
Tuesday May 14th 2019
Michael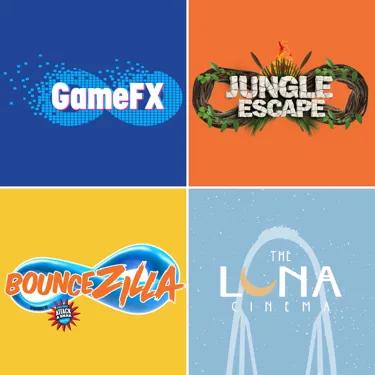 From our gaming extravaganza, 'GameFX' to the intense 'Jungle Escape', hilariously bouncy, 'BounceZilla' and magical 'Luna Cinema', 2019 at Thorpe Park is the season of something for everyone!  
You may want to consider a visit over the weekend of the 25th/26thMay, as we will have not one, not two or even three but FOUR of our 2019 events running at the same time!
That's right Islanders, the weekend of the 25th will feature GameFX, Jungle Escape, BounceZilla AND The Luna Cinema! 
If you don't have a season pass yet, there is NO BETTER TIME to get your hands on one and unlock our fantastic 2019 season! Oh look, we've conveniently put a link to buy one here…how thoughtful :)
Let's have a run-down of why this week is going to be so MASSIVE!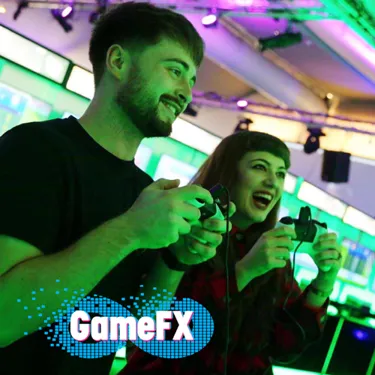 With some of the newest gaming titles on the latest consoles, sensational VR experiences, gaming through the years and the awesome HYPD Legends tournament, GameFX is a gamer's paradise found in the thrill seeker's paradise, Thorpe Park. GameFX is included in the price of your entry, so why not pop in to the gaming arena for an added bonus to your day!
GameFX runs until the 31st of May in the Lakeview Marquee by The Swarm!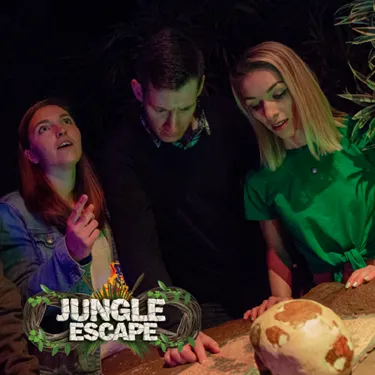 The Island is constantly evolving! We're always looking for new experiences to keep you guys on your toes and enjoying Thorpe Park Resort in ways that you wouldn't expect. This year, is no different as we're introducing Jungle Escape, a devious wilderness adventure full of perils and puzzles!
The two teams will run simultaneously, using all their wit and cunning to progress through the jungle by solving confounding conundrums, which will unlock the next stage of your adventure! After successfully completing each trial, teams are rewarded with mysterious gems that should be kept safe to use at the climax of the escape!
Overseeing the antics is the mysterious and slightly unhinged, Huntsman. After making trophies out of all the animals in the jungle, the only thing left to hunt are those brave enough to wander into the wilderness!
Are you brave enough to tackle Jungle Escape over the Bank Holiday weekend? Book your ticket to the jungle here!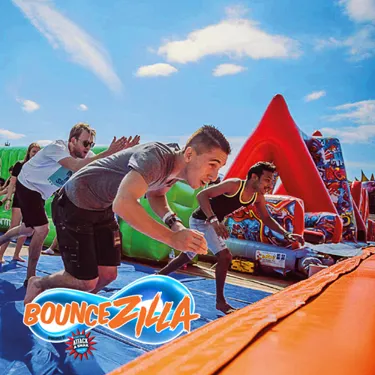 It's BIG, it's BOLD and it's definitely BOUNCY! This summer, ditch your shoes, assemble your team and prepare yourself for the loudest, most outrageous and brilliantly bonkers inflatable course in the UK!  Bounce past obstacles, tumble through tunnels and slide your way to the finish!
BounceZilla is the 90m inflatable course that BITES BACK, and it's bouncing into Thorpe Park on Saturday the 25thMay. BounceZilla promises to be the hilarious, inflatable assault course that you've been missing in your life AND it's included in your entry fee!
We're thrilled this year to welcome The Luna Cinema to Thorpe Park! These guys are the country's leaders in open air cinema events!
Together, we're providing film and theme park fans with not one but TWO blockbusters over the May bank holiday weekend!
Back to the Future will be showing at 9pm (doors open 7pm) on Saturday 25th May and Bohemian Rhapsody will be showing at 9pm (doors open 7pm) on Sunday 26thMay. Book your tickets here!
And what would a film in a theme park setting be without some rides! Guests can get their kicks before they kick back on a selection of rides including of course, Stealth!
Saw - The Ride
There's a joint Birthday going on this year as Saw – The Ride went double digits and turned 10 years old earlier in the season! It might be worth checking out this fab coaster during the bank holiday weekend. We've heard there have been some 'disturbances' in the vicinity.
With such a huge week of events, you'll struggle to do it all in one day. Why not book a short break at The Shark Hotel and take full advantage of all the festivities during what is bound to be an unforgettable week in Thorpe's history! See you there...
Michael 
Official Thorpe Park Resort Blogger