Thorpe's big 4-0 - Jungle Escape - An Escape Room Like No Other
Tuesday May 28th 2019
Michael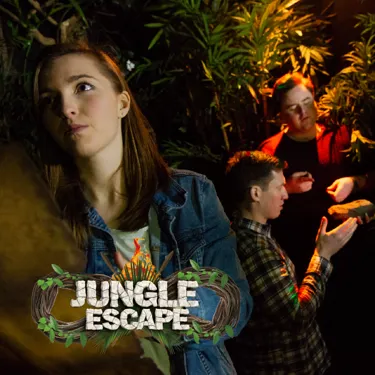 Thorpe's latest adventure combines the intense challenge of an escape room with a menacing jungle! Select only your bravest and most daring friends to face the Huntsman as you enter the challenging undergrowth of the Jungle Arena. Engage your senses, prime your wit and take on the elements as you undergo a series of testing rituals before facing off with your rivals to ultimately decide which team leaves victorious and which will be lost to the Jungle forever.
The Island is constantly evolving! We're always looking for new experiences to keep you guys on your toes and enjoying Thorpe Park Resort in ways that you wouldn't expect. This year, is no different as we're introducing Jungle Escape, a devious wilderness adventure full of perils and puzzles!
But what makes this an escape room Like No Other we hear you shout? Well, to successfully make your way out of the undergrowth, you must go head to head with a rival team, just as eager to escape as you are!
The two teams will run simultaneously, using all their wit and cunning to progress through the jungle by solving confounding conundrums, which will unlock the next stage of your adventure! After successfully completing each trial, teams are rewarded with mysterious gems that should be kept safe to use at the climax of the escape!
Overseeing the antics is the mysterious and slightly unhinged, Huntsman. After making trophies out of all the animals in the jungle, the only thing left to hunt are those brave enough to wander into the wilderness!
Jungle Escape costs £7 on the day
£6 if you book online
and
£5 if you're a Passholder! 
For more information and to book your tickets to Jungle Escape, head here!
We can't wait for you to decode the clues, test your physical limits and escape the Huntsman's game in this new for 2019 live adventure escape game!
Michael
Official Thorpe Park Resort Blogger