Those who ride.... Survive
Thursday February 22nd 2018
James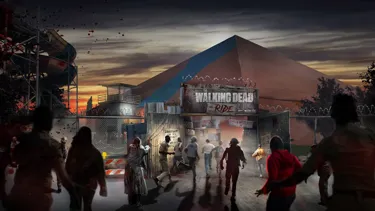 Islanders!
In case you have been living under a rock or in your Zombie apocalypse shelter, we finally shared with you our Headline act for The Year of The Walking Dead... The Walking Dead: The Ride.
We're really excited to tell you all about all the screams and scares that await you in this terrifying and relentless fight for survival. You will be pleased to know, we're not holding anything back; it's going to be one of the most petrifying experiences ever.
You will be in an area overrun by the dead and there's just one goal; survive. Can you make it to the sanctuary of the Safe Zone avoiding the gruesome walkers?
John Burton, the chief creator of the new rollercoaster, has revealed that for those of you who are brave enough, you will be immersed in an experience complete with state-of-the-art special effects, and a replica of the iconic Watch Tower. He has gone so far as to say that you will be facing a ride which is, "15 out of 10 on the scare scale."
We're both terrified and excited in equal measure, and this definitely rounds off the year of unmissable events here on the Island with The Walking Dead: The Ride at the heart of our series of unmissable events which includes:
The Walking Dead Living Nightmare Extreme (the live action maze at its most terrifying) available only for May Half Term (25th May – 3rd June)
Summer Lates until 10pm (Thursdays, Fridays and Saturdays from 26th July – 1st September)
Zombie Hunt – an extreme battle for survival in woodland on the outskirts of the island for the six weeks of summer (21st July – 3rd September)
FRIGHT NIGHTS (5th October – 31st October)– returns with a The Walking Dead theme
We know you're all chomping at the bit to join us in the battle for the Island and the best way to experience this is by nabbing yourself a THORPE PARK Resort Annual Pass for only £49!
Remember, those who ride, survive!
#TWDTheRide
James
Official THORPE PARK Resort Blogger