Top 7 FRIGHT NIGHTS Hacks
Tuesday October 10th 2017
Jordan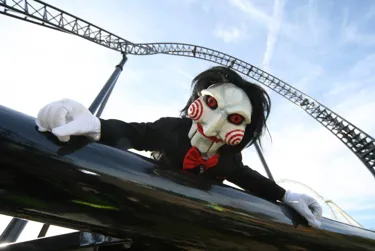 FRIGHT NIGHTS has well and truly returned and a dark cloud has appeared over the Island as we're invaded by the global television phenomenon The Walking Dead. So, grab your survivor kit because us Islanders need to stick together if we're going to survive the night. After 16 years of being in the FRIGHT NIGHTS game, we know the ins and outs of how to get the most screams out of your visit with us. So have a read through, familiarise yourself with the basics and GOOD LUCK!
Prepare for FEAR
Book your tickets and print them at home before you arrive to the Island Like No Other and beat the ticket queue! We like to think of it as a free fast track for admissions – let's be honest who doesn't want to be one of the first in a ride queue line.
Arrive early
We understand 12 hours is a long day, but trust us - when the mazes open at 3PM you'll be surprised by how quickly the time has gone! We advise to come as early as you can so you can make the most out of your thrills. The park will open at 10AM with the carpark opening at 9AM.
Strut your stuff
Just because we don't allow masks that cover your face fully, doesn't mean we don't want to see you looking your scariest! Grab the squad, choose your theme. FRIGHT NIGHTS only comes by for a limited time once a year so what better way to show off your squad goals?!
The brave go first
Don't be the one in your group to shy away. Lead your group through our gruesome horror mazes; this is the position for the best scares! Breathe in and out, and shake off those nerves because you are about to experience the most terrifying position in the FRIGHT NIGHTS horror mazes.
Time schedule
When planning your day, be aware that the mazes begin to get their scare on at 3PM, meaning that the lines for the rides will begin to decrease and the maze queues will begin to increase. If you can, we recommend attempting to hold back that bravery and make the most of the magical hour from 3PM-4PM and ride hop.
It's only a theme park… it's only a theme park…
We can guarantee you're going to have a pretty terrifying time within the mazes, but don't worry - you got this!  If it does push you to the edge however, just take a breather and whisper to yourself: it's only a theme park, it's only a theme park…
Cheeky secret
No one wants to get lost in the crowd heading out! Even though the park closes at 10PM, a lot of our more scared guest tend to start leaving around 9PM. Which means that those of you brave enough to remain on the Island after dark will be able to take advantage of the shorter queues towards the end of the night. Which can mean only one thing – re-rides in the dark!
Until next time Islanders,
Jordan
Official THORPE PARK Resort Blogger