What's New For FRIGHT NIGHTS 2017?
Tuesday July 25th 2017
Jordan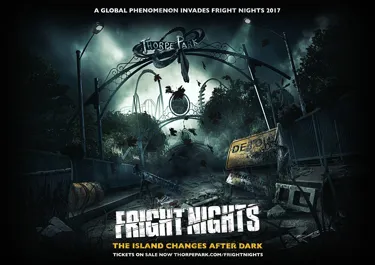 Halloween lovers rejoice; FRIGHT NIGHTS 2017 is almost here! Well, we say almost. It is still July, but we need very little excuse to get spooky and the release of the first teaser for FRIGHT NIGHTS always kicks off our countdown calendar to the most wonderful time of the year here on the Island Like No Other.
So, what does it mean?! Well, obviously we're not going to tell you that. It's far too much fun to sit back at our computer and laugh maniacally as the rumour mill swirls ever faster. But what we can say is it is absolute torture to not be able to tell you all immediately because we are SO EXCITED!
Here's what you can expect from FRIGHT NIGHTS 2017:
- NEW horror experiences
- An invasion from a global horror phenomenon
- MORE scares
- MORE FRIGHT NIGHTS dates than ever before
And of course, Early Bird tickets are now available! The earlier you book, the cheaper it will be for you so lock in your night of fear now to get the best value for money.
Only 66 days to go. The Island changes after dark…
Until next time Islanders,
Jordan
Official THORPE PARK Resort Blogger