5 Thorpe Park Bucket List Items to Conquer at Passholder Day
Tuesday February 12th 2019
Michael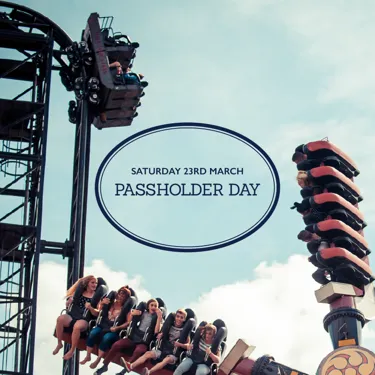 Saturday 23rd March is our Passholder Day! The first opportunity for you lucky Thorpe Park fans to have exclusive access to the Island. Who's hyped!?
Passholder Day is an EXCLUSIVE event. There are only a limited amount of tickets available because we want to give you guys the best experience possible. So with this in mind, check out our 5 Thorpe Park Bucket List items that you can have a go at ticking off on Passholder Day...
Ride Front Row on Our Big 5
Colossus, Nemesis Inferno, Stealth, Saw and The Swarm! Passholder Day is the perfect opportunity to ride front row on our iconic, BIG five coasters! 
Depth Charge Challenge
Challenge you and your mates on each of Depth Charge's fours rides! Who can tally the most wins and is one slide slicker than the others?
Back to Back Soaks
Can you ride all our water rides back to back? Are you prepared to get that drenched to cross off a life goal? 
Swarm Left or Right? Why not both!
Answer a question that has baffled scientists for years. Which side of The Swarm is best? On pass holder day, you should get the opportunity to do both sides multiple times! When you've made up your mind, let us know!
Photo Finish
With the reduced capacity on park, Passholder Day is perfect to get to know our rides intimately! Why don't you take this chance to work out where all the cameras are and be able to show off to your mates when you look Instagram ready during your next visit!
Did you know that if you book a hotel room with us on this day, there's no need to book? So why not extend your visit and relax after an action-packed day at the Thorpe Shark Hotel on Saturday 23rdMarch from as little as £69 for bed and breakfast based on two sharing!
Stay tuned to our social channels for all the information you need and how to book! Still don't have your pass? Really!?
With all these benefits...
Your Season Pass is your ticket for the 2019 Season where you can enjoy over 30 rides, attractions and events! 
Get exclusive special offers and news straight to your inbox
20% off on overnight stays in our THORPE Shark Hotel through the Merlin Holiday Club
Bring your friends along for only £15 each on selected dates
We can sort you out!
Michael
Official Thorpe Park Resort Blogger