A Theme Park Like No Other: Get The Most out of FRIGHT NIGHTS
Tuesday October 1st 2019
THORPE PARK Official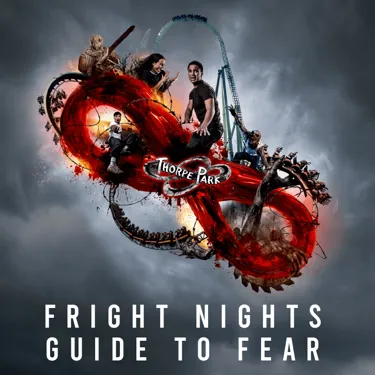 In case you missed it, FRIGHT NIGHTS 2019 has launched! 
Fearseekers
We know what you're thinking – how could I possibly maximise my scream time in the Fright Nights scare mazes when there's just so much to do. Terrifying horror mazes, coasters in the dark and a ton of other Halloween attractions to enjoy in between, how exactly does one manage to achieve optimum fear satisfaction from a trip to Thorpe Park Fright Nights? Well fear not (pun intended), we've got you covered – here's our fool proof plan for the day to ensure your thirst for FEAR is satisfied.
11AM Detonator
12PM Derren Brown's Ghost Train: Rise of the Demon
1PM Lunch Time - We advise heading to Fin's to try out new FRIGHT NIGHTS food offerings, The Hellish Relish Burger washed down with a Lumberjack cocktail! Check out our Feeding the FEAR blog for our full FRIGHT NIGHTS food lineup!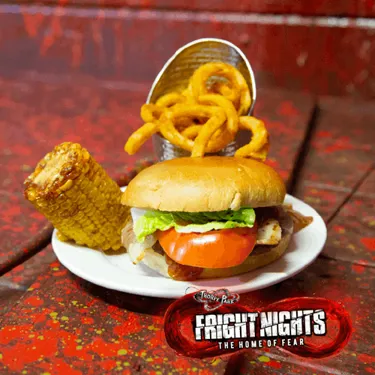 2PM The Walking Dead: The Ride
3PM Screamplexx Cinema - Nothing says Halloween like a terrifying horror movie marathon, so take a break from the thrills in Screamplexx Cinema presented by Bloody Cuts! From 3PM, grab your popcorn and settle into your seat as you devour a series of tantalisingly terrifying short films…plus a few spooky surprises along the way…
4PM The Walking Dead: Living Nightmare
5PM Time to refuel! Grab a tantalising Horror Hotdog from Wilderness Bar & Kitchen!
6PM Stealth
7PM Saw: The Ride
8PM Platform 15
9PM Creek Freak Massacre – Time to take on our most intense maze ever! Hacking their way into the old abandoned Creek Woods Saw Mill in 2019, tread carefully past a deranged family of lumberjacks lest you find yourself chugging gasoline fumes on the wrong end of a chainsaw! Who will survive…and what will be left of them? Brace yourself and prepare for the gruesome worst as you take on more chainsaw massacre madness than ever before in Creek Freak Massacre!
Added Extra: Containment -  Still got time on your hands? Why not go against the clock in Containment! This fiendish escape room pits guests against some of the UK's worst nightmares in a terror, timed trial! Book your ticket here.
Thrillseekers
Now obviously, the main event during FRIGHT NIGHTS are the gruesome horror mazes we have on offer. Don't forget that we have a sick selection of some of Europe's most intense coasters! Take a look at our suggestions for those that still want their adrenaline fix this Halloween!
11AM Vortex
12PM Nemesis Inferno
1PM Lunchtime! Grab a FRIGHT NIGHTS refill cup and look out for a bespoke flavour combo over the spooky season! Grub wise, head to Fin's for a delicious pizza. Choose from the Meaty Massacre, MARRGHHHgherita or Blood-curdling BBQ Chicken!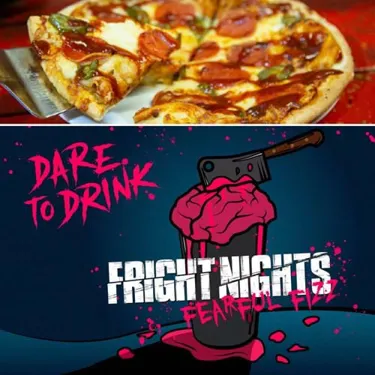 2PM Stealth – While you're enjoying 12 hours of thrills this FRIGHT NIGHTS, why not give our Feared 5 Challenge a go! Become a master of darkness at FRIGHT NIGHTS 2019 by taking on our frightful Feared 5 challenge by braving some of Europe's most thrilling coasters in the pitch black. Simply ride each of our big five coasters once, scan the QR codes located in the coaster queue lines, decipher the creepy code-word and quote it at the Megastore for a FREE exclusive Feared 5 wristband.
3PM Creek Freak Massacre
4PM Platform 15
5PM Snack - You'll need something sweet to keep your energy up as you make your way round our scare mazes. Head to The Donut Factory and get your hands on The FRIGHT NIGHTS Sundae. A freshly cooked, warm donut topped with silky-smooth ice-cream, chocolate and strawberry sauce and finished with Oreo crumbs and a R.I.P Oreo that will let your rumbling tummy rest in peace
6PM Rush
7PM The Walking Dead: Do or Die
8PM The Walking Dead: Living Nightmare
9PM The Swarm
Added Extra: Dark Void VR – Player Ready are bringing the immersive thrills this year with terrifying VR experiences located in Old Town. Scare yourself senseless! 
Funseekers
Did you know that there's only a tiny difference between someone experiencing fright and enjoyment?  With intense rides and horrifying mazes, You're likely to experience both in a theme park. FRIGHT NIGHTS blends the two perfectly, so We've put together a day that mixes pant-wetting scares with laughs and thrills.
11AM Zodiac
12PM The Swarm
1PM Lunchtime! Creek Freak Cluck Burger - Terrifyingly tender chicken thighs marinated in Frank's Red Hot sauce, served with a cooling mayo in a brioche-style bun and chunky chips.
All burgers can be served without the bun. Just ask your host!
2PM Stealth
3PM Platform 15
4PM Screamplexx Cinema – Nothing says Halloween like a terrifying horror movie marathon. From 3pm onwards, grab your popcorn and settle into your seat to devour a series of tantalisingly terrifying short horror films. Plus, be prepared for a few spooky surprises along the way…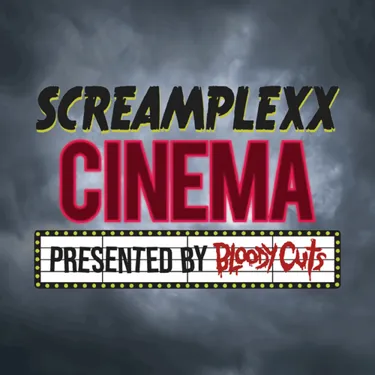 5PM Drink - Why not grab one of our fab FRIGHT NIGHTS cocktails to ease you into the evenings activities!? Choose from the 'Bite Me', 'Shark Attack' and 'Lumberjack'! Check out of FRIGHT NIGHTS food blog for the full lineup of terrifying eats.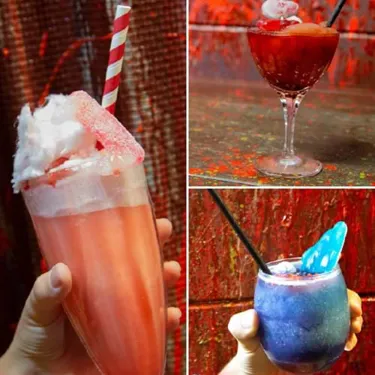 6PM Blair Witch
7PM Terror at Amity High: Highschool Sucks
8PM Nemesis Inferno
9PM Stealth
Added extra: Dark Void VR
These are just three ways to enjoy FRIGHT NIGHTS 2019, of course there are infinite ways to experience our Halloween event Like No Other! Head down to Thorpe Park this spooky season and make the most of your visit to the Home of FEAR! 
Follow us on Twitter, Instagram and Facebook to keep up-to-date with everything Thorpe Park!