A Theme Park Like No Other: Feeding the FEAR
Tuesday September 24th 2019
THORPE PARK Official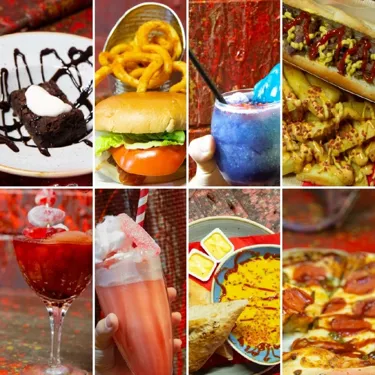 Thorpe Park completely changes during FRIGHT NIGHTS. It transforms from a bright, colourful theme park into a dark and twisted home of horror and that doesn't stop at the food! 
This year, we've got a full on FEARFful feast to keep you well fed as you make your way round the horrors. 
Check out the key below for the menu items.
(V) = Suitable for vegetarians
(NG) = Contains non-gluten products
You'll find the following fiendish items in Fin's Bar and Grill, located in The Dome. 
SPOOKY STARTERS
On a chilly October night, what better way to start your meal than with a delicious soup! We're offering three hearty flavours, courtesy of The Real Soup Company, to keep you warm as you navigate our award-winning scare mazes!
Spicy Carrot (V)
Spiced Parsnip and Honey (V)
'Scream' of Chicken
From the menu:
'Fresh soup from The Real Soup Company, all served with freshly baked bread and butter.'
How fabulous is ''Scream' of Chicken!? Please note, all three soups contain dairy!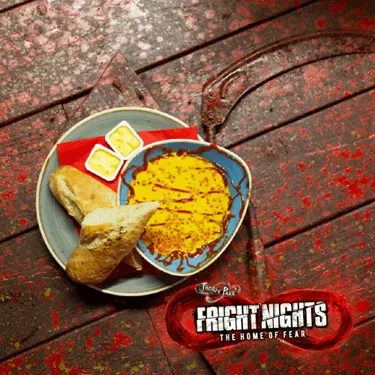 MALEVOLENT MAINS
Supernatural Salmon (NG)
From the menu:
'Blackened Cajun salmon fillet served with broccoli, new potatoes and heritage carrots.'
Other than the fact that this dish might make you psychic, how delicious does it sound? Tender, seasoned salmon, fluffy new potatoes and carrots that may (or may not) help you see better in the dark! A classic and tasty combination.
Hellish Relish Beef Burger
From the menu:
'A FEARful twist on Fin's classic bacon & cheese topped beef burger, smothered in Shaw's Chilli Relish served with chunky chips.'
We all need a bit of spice in our lives. Head to Fin's this FRIGHT NIGHTS for a bespoke burger that bites back! Please note the hellish relish itself contains mustard for that extra kick!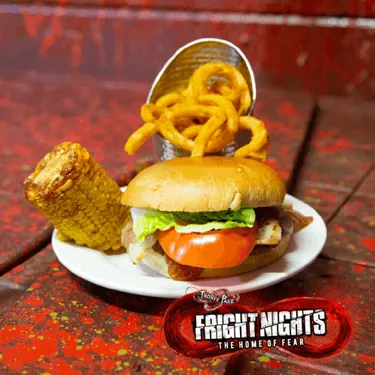 Villainous Vegan Burger (V)
From the menu:
 'A scarily succulent Moving 'Mountain' plant-based patty in a vegan roll topped with 'HP Deep-South BBQ' sauce served with chunky chips.'
As well as being a meat-free masterpiece, this burger is 100% vegan (including the bun) and packed full of flavour!
Creek Freak Cluck Burger
From the menu:
'Terrifyingly tender chicken thighs marinated in Frank's Red Hot sauce, served with a cooling mayo in a brioche-style bun and chunky chips.'
A new horror maze deserves a new menu item. This wicked chicken burger is not for the faint hearted. The Frank's Red Hot Sauce puts the kick in this chick and is guaranteed to fuel your fears the whole evening.
All burgers can be served without the bun. Just ask your host!
PETRIFYING PIZZAS
Meaty Massacre
MEAT!!! All the Meat!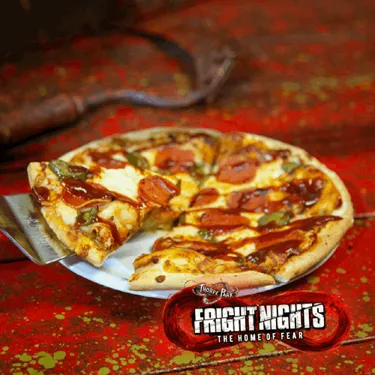 MARRGHHHgherita (Margherita) (v)
The MARRGHHHghertia will make you scream with delight! Crisp dough, tantalising tomato sauce and warm, bubbly cheese. Perfection.
Blood-curdling BBQ
Smoky sweet BBQ sauce and tender chicken is such a great combo on a pizza. This blood-curdling bad boy is Halal and is available on a non-gluten base, as are all our pizzas. Just ask your host!
SCANDALOUS SIDES
Satanic 'Slaw (v)
From the menu:
'Carrots, jalapenos and red cabbage in a smoked vegan Houmous.'
Fed up with a boring old coleslaw? Check out this re-vamped version! Another totally vegan menu item! 
Creepy Corn (v)
From the menu:
'Grilled corn on the Cob with lashings of butter and Cajun pepper.'
Sweet, crunchy corn on the cob dripping with butter. Non-dairy? Just let your host know! 
Twisted Fries (v)
Wicked  Wedges (v)
DESPICABLE DESSERTS
Death by Chocolate Brownie (v) (NG)
From the menu:
'Chocolate brownie served with vanilla ice cream.'
This decadent brownie is fudgy perfection and the ultimate way to finish your meal. You'll kick yourself if you don't indulge.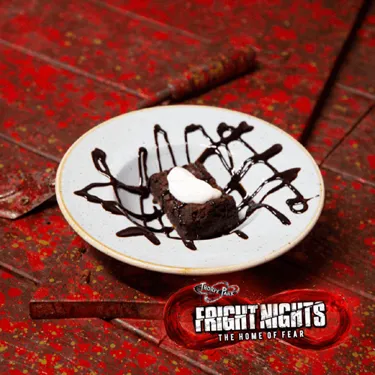 Trick or Treacle Tart (v)
From the menu:
'Stupefyingly sticky sweet treacle tart served with custard.'
Treacle tart is such a fab autumn dessert! The gorgeous golden colour and rich, syrupy taste are enough to fend off any wintery chills. 
"The Brain" (v)
From the menu:
'A gruesomely glorious Cherry Bakewell sponge pudding served with custard.'
Sponge as light as a cloud with a rich cherry sauce, finished with velvety custard.
CREEPY COCKTAILS
BITE ME!
From the menu:
'Ice cold strawberry Piña colada slush.'
Don't be a sucker! Fend off any stray vampires with this blood thirsty beverage.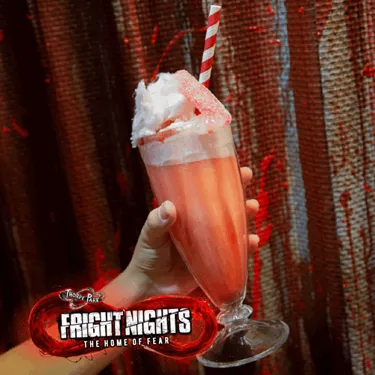 SHARK ATTACK
From the menu:
'Ice cold slush blended with Havana, Absolut, curacao blue and grenadine.'
Get your JAWS round this FINtastic cocktail this FRIGHT NIGHTS.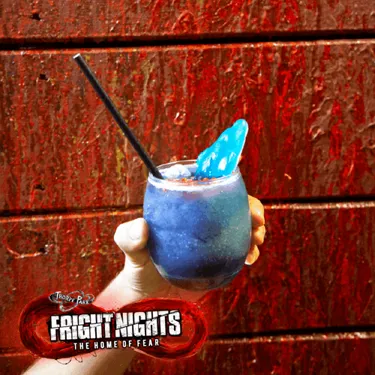 THE LUMBERJACK
From the menu:
'Ice cold slush blended with rum and Coke Zero with a twist of grenadine.'
Pluck up the courage to take on Creek Freak Massacre with this horror maze inspired cocktail!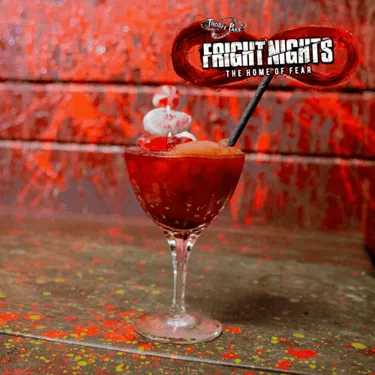 OTHER EVIL EATS
The Snowy Grave
Ice SCREAM from magic! Chocolate Ice cream with a whipped cream topping and an Oreo dust coating and base. Finished with a biscoff RIP Grave stone. Find The Snowy Grave at Nitrogenie, located opposite the entrance to Derren Brown's Ghost Train: Rise of the Demon. 
The FRIGHT NIGHTS Sundae
A fresh, warm donut topped with Mr Whippy ice cream, strawberry and chocolate sauce and a dusting of Oreo crumb. This luxurious sweet treat is finished with a Rest In Peace Oreo! Your belly will certainly be at peace when this inside it. Donut Factory can be found in Amity next to Storm Surge.
HORROR HOTDOG
Head over to Wilderness Bar and Kitchen for this FRIGHT NIGHTS inspired dirty dog! A juicy, 'Rollover' dog fully loaded with cheese sauce, ketchup, onions and bacon bits. A FEARful feast for sure. Wilderness Bar & Kitchen is located in The Jungle behind Derren Brown's Ghost Train: Rise of the Demon.