A Theme Park Like No Other: The Fanta Twisted Carnival is in Town!
Monday September 30th 2019
THORPE PARK Official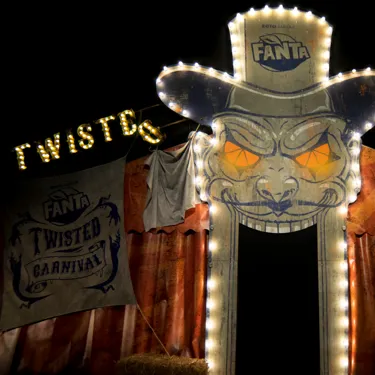 Welcome to Fanta's Twisted Carnival! A fantastical fantasia of fear, Fanta's Twisted Carnival is a Halloween show of thrills and chills.
We're extremely pleased (and slightly scared) to welcome back Fanta and their Twisted Carnival to FRIGHT NIGHTS. This pop up house of fizzy pop and fear is here to delight guests throughout Halloween! 
Step inside if you dare...
You'll be greeted by members of the carnival, from the loud, proud, Carnival Caller, to the eccentric Master of Ceremonies who will guide you through his collection of fine frights and exotic scares. Whatever you do, don't peek behind the curtain, for unrivalled scares await you there…
Celebrate Halloween with an immersive experience like no other, it may even give you a little shudder. Fizz with fright at our marvelous delights, a must do event at Fright Nights.
So come and visit Fanta's Twisted Carnival and come and taste the dark…if you dare?
Twisted Carnival is at the Resort until the 2nd November between 12-10pm and is located beside Derren Brown's Ghost Train!
(Over 16s only)