A Theme Park Like No Other: The Sound Of FRIGHT NIGHTS
Tuesday September 17th 2019
Thorpe Park Official
The thrills are alive, with the sound of scary music! A horror maze would be a very different experience without any sound. Venture into this week's blog if you dare and meet the creative that brought the noise to our most intense maze yet!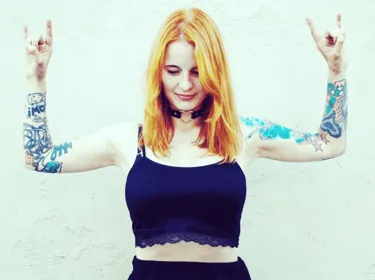 How is FRIGHT NIGHTS less than two weeks away?! This year we have some returning favourites as well as some fantastic new attractions to add some all new scares to your spooky season!
Filmmakers say that sound makes up more than 50% of the experience when watching a movie. Imagine watching Jaws without the famous 'duh-nuh!' or The Texas Chainsaw Massacre without any chainsaw sounds!  We think it's exactly the same for a horror attraction during FRIGHT NIGHTS. We want you questioning your choices the whole way down the queue line, let alone once you're inside and we know that an amazing score can create those feelings.
We knew we needed an amazing artist with a penchant for all things horrifying, Serena Cherry is a vocalist and guitarist for punk-rock band, Svalbard! We teamed up with her and she has created the most incredible original music for our most intense maze yet! Check out what inspires her and why she thinks music is so important in creating atmosphere!
HI SERENA! THANKS FOR YOUR AMAZING WORK ON THE CREEK FREAK MUSIC. HOW DID YOU FEEL BEING APPROACHED TO WRITE SCORE FOR A HORROr MAZE AT A THEME PARK?
To be honest, being approached to write a score for a horror maze at Thorpe Park was a dream come true for me. I can't think of a more exciting musical project! I attend Fright Nights every year and am a huge fan of the park, so to say I was over the moon would be an understatement. I think when it comes to horror mazes, Thorpe Park does it like no one else – they're always finding unique and innovative ways to bring the scares. They've built some iconic mazes over the years. So to be able to get involved with their creative process and compose some bone-chilling music for Creek Freak Massacre was an honour.
WHAT WERE YOUR INSPIRATIONS FOR THE SCORE?
Musically, the stomping horror-metal of Rob Zombie was a big influence; as was the crushingly heavy dirges of Sunn0)). They inspired me to make my guitar sound as monstrous as possible! Slow, heavy, doom-laden metal can build such a sense of dread and I wanted to play on that sense of foreboding for Creek Freak Massacre.
IMAScore and the Dutch composer Rene Merkelbach also inspired me in the way they create such evocative soundtracks for theme parks. But that's not necessarily to say my composition sounds anything like their musical works! I don't believe you necessarily have to emulate the music that inspires you. I would say that I drew inspiration from the way these theme park composers use instrumental music to set a particular mood and conjure immersive atmospheres for areas of a park. I wanted to channel that same emotive power that their music has, but with a very different feeling. 
WHAT ATMOSPHERE DO YOU WANT THE SCORE TO CREATE AND HOW DO YOU WANT PEOPLE TO FEEL?
The score is designed to create an overwhelming feeling of unease that builds and builds before all hell breaks loose. In terms of atmosphere, it's all very dark and sinister. I was aiming to sonically create that sheer tension that comes with a good horror maze: the feeling that something's not quite right, the nervous anticipation...and then, utter disorientating chaos! 
I have a really strong memory of standing in the queue for Asylum at Fright Night many years ago, and being so freaked out by the creepy music that I almost didn't enter the maze. I wanted to evoke that same feeling of dread, and then build it to an almost unbearable crescendo of abrasive noise to create a real musical assault on the senses.
HOW IMPORTANT DO YOU THINK MUSIC/SOUND EFFECTS ARE IN CREATING AN ATMOSPHERE IN AN ATTRACTION LIKE THIS?
In my opinion, music and sfx are one of the most vital components of horror mazes. A horrible, twisted soundtrack can elevate a horror maze from plain scary to utterly insanely terrifying. I love how the right spooky music can change the atmosphere of a room instantly – it adds so much to the narrative and theme. Plus, through use of sound you can create dynamics in the maze that make the quiet parts equally as terrifying as the loud ones. Obviously, it's the actors who bring a horror maze to life – but music and sfx definitely set a powerful tone of horror for the entire experience, from the minute you join the queue to the minute you run out screaming!
WHAT HAS BEEN THE HIGHLIGHT OF YOUR CAREER?
This! Genuinely. As a Fright Nights fan, being able to get stuck into an exciting new concept for a maze has been fascinating. Being encouraged to create music as intense as possible for Thorpe Park has been very thrilling creatively – being able to push the limits of what we might expect from a horror maze score and to create something truly unsettling has been so rewarding. I genuinely got goosebumps when I heard my music on the Creek Freak announcement video! (I've gotta say that touring Japan with my band - Svalbard, comes a close second for highlight of my career though!)
Well there you have it. A rocking soundtrack for our gnarly new maze! Thank you so much Serena for the awesome work. Creek Freak Massacre is going to rock your world and we can't wait for you to experience it from the 28thSeptember!