Thank You for an AMAZING 2018 Season!!!
Tuesday November 6th 2018
Michael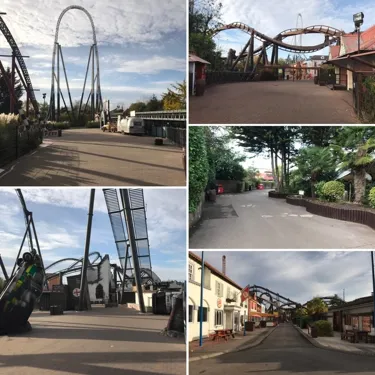 Well…that's it for another year. We know! We would say 'time flies' but it doesn't, it stays at a constant rate and is actually a man-made concept, but that's not important. What is important is that it seems like only yesterday we opened our gates for 2018. As the evenings become longer and the temperature drops, let's grab a hot chocolate and reminisce about this fantastic season past.
It probably seems like we say 'this year is our biggest season yet!' every year…and we do, but only because it's true!
We always try and out-do ourselves by making each season bigger and better than the last because we always want to provide the biggest and best experience for you guys!
After a cold, snowy opening weekend we launched of The Walking Dead: The Ride, based on AMC's The Walking Dead. We re-themed our beloved indoor coaster 'X' to become a Safe Zone from hordes of walkers. Awkwardly it didn't turn out to be all that safe…
Using fantastic effects and powerful storytelling, the ride took visitors on a thrilling journey to escape a full-on walker attack!You guys loved the authentic look of the ride compared to the show and your screams spoke for themselves in demonstrating how scary this thing is!
Continuing The Year of The Walking Dead, towards the end of spring we held our Apocalypse Weekends where we challenged Islanders to scour the Resort for resources to keep the Safe Zone well stocked.  Those who completed the challenge were rewarded with a free ticket for another visit and Annual Passholders got their hands on an exclusive pop-badge!
Nowhere was safe! The whole Resort became overrun with walkers and we had to recruit brave Islanders to eradicate the menace! Laser blasters in hand, they took on a cast of gruesome characters inhabiting the woods in Old Town. Were you one of the brave souls that took part in Zombie Hunt this year?
The sizzling weather over summer made for some balmy Love Island Lates. The lovingly recreated set from the show and visits from contestants old and new made for some memorable evenings at the UK's only authentic Love Island experience.
Finally, we said goodbye to summer and saw the season out with our most HORRIFYING FRIGHT NIGHTS yet. 11 attractions- more than any other year and the promise that 'This Year, Nowhere Is Safe' meant that there was something creepy lurking around every corner of the Island.
We need to say a big thank you to our staff and of course to each and every one of you that took on walkers with us, danced the summer nights away on the beach and ultimately made the season so much fun.
And as with every year, we can't wait to thrill you with what's in store for the 2019 season. Suffice to say we're excited for a year of fun, thrills and laughter with each and every one of you. See you in March!
Michael
OFFICIAL THORPE PARK Resort Blogger