The Fearmakers Behind FRIGHT NIGHTS
Tuesday October 24th 2017
Jordan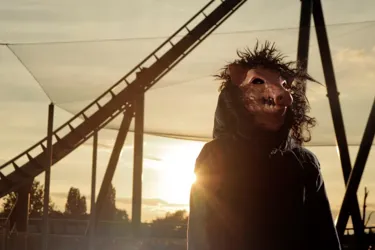 We get asked so often by you guys to reveal some of our well kept behind the scenes secrets, so we thought we'd treat you! Over the next couple of weeks we're catching up with some of the master minds behind FRIGHT NIGHTS to give you a sneaky insight into conceptualising and operating such a huge event! To kick things off we caught up with our very own Matt Boswood...
What is your full job title and how did you get to where you are today?
Hello – my name is Matt Boswood and I am the Resort Entertainments & Events Manager. I've worked all over the place, from nightclubs, music events, hotels, corporate venues, theatres and of course THORPE PARK Resort. I've always been a fan of theme parks, so this has been a dream job to join the Resort and to lead our biggest event of the year.
What's the best bit about your job?
Where do I start? There are two key areas, firstly the variation of what I do. One day I am planning how to terrify our guests, to running our Ministry of Sound Club Nights, through to our Angry Birds 4D Experience. I come in with a to-do list and after about an hour that has changed, which makes this role and the business so exciting. The second area and most importantly is the people – it's what makes the Resort special, something that you don't get in every organisation.
When do you start working on FRIGHT NIGHTS and how long does it take to create the event?
In short it doesn't really stop. Once we had the 2016 event open we started to look towards 2017 and of course our exciting partnership with The Walking Dead. It is very difficult to quantify how long it takes because it is an ongoing process that never really stops – we are always researching ways to deliver the scariest attractions! From conceptualising new attractions, through to refreshing returning attractions, scripting, costume, makeup, props, signage, queue lines… the list is endless! One of the biggest challenges we face as a team is recruiting such a massive cast that will swell to well over 130 actors. This year we started earlier than ever in June and this has run throughout September & October.
What's it been like creating an attraction based on one of the biggest IPs in the world?
Very exciting! Ensuring that we bring to life one of the biggest TV shows that is so iconic has been a fantastic addition to the event and also very fun to work on. When people ask what I do this (now we can fully talk about it) has been the first thing that I talk about, pretty cool! With the scenes being so iconic we needed to ensure that we did the show justice. We spoke with a number of prospective companies but we decided to work with Paragon Creative to be our design and build partners to deliver two of our attractions. The level of detail that we have gone to with this attraction is above and beyond anything that we have done for FRIGHT NIGHTS and the response has been very positive from our guests.
On top of this The Walking Dead has been a very different scare than what our guests usually see from our attractions, so the team have spent a lot of time perfecting the Walker movements to ensure that we scare every guest that is true to the show but also ensuring that we deliver our FRIGHT NIGHTS level of scare.
What is the most challenging bit about your job?
This is always a hard question, because challenges always come our way. I would say juggling every aspect of the Entertainment & Events - ensuring that whether they are families in our 4D Cinema or guests being terrified in our mazes they are having a memorable experience and the two don't mix.
What has been the achievement you're most proud of?
Oooo… probably seeing the Entertainment & Events offering grow each year. We get to the end of every year and ask "how do we top last year?" and each year we manage to deliver more and more! I have a fantastic team that I work with from my management team through to the front line team and they continue to deliver time after time.
Were you a fan of Thorpe Park and FRIGHT NIGHTS before working on it yourself? If so what was your favourite attraction?
So I first visited FRIGHT NIGHTS in 2007 as a guest with a friend. I had never been through a scare attraction before and wasn't really sure what to expect and the first one I went through was Se7en. I remember being in the queue with my friend and I was vocally confident that this wouldn't scare me and was very much looking forward to the experience. We joined a group of girls who were in front of us to go through the attraction and I was at the very back. We got the batching speech and even at this point I was still very confident and then we went in…. We went into the first room and I remember seeing an actor on the floor staring at me and then he got up. At this stage I was then screaming all the way through terrified, with my friend laughing at me quite a lot because I had been so confident beforehand. Of course the more you scream, the worse you make it for yourself (top tip!). After this I was fixed and wanted that scare and continued to go through the attractions for the rest of the night! Now I strive to give every guest the same terrifying experience that I had all those years ago.
Talk us through the audition process – how does one become a FRIGHT NIGHTS scare actor?
Stamina and agility. Working in the mazes is tough, it is a very physical job and is the ultimate workout. What we look for are those with the complete package, use of vocals, facial expressions, agility and crucially they have to be scary! Impact scares are a core part of what we look for – encompassing everything listed and being able to run and stop dead in your tracks ensures for screaming and terrified guests. If you can nail everything listed, know the basics, happy to feel a bit silly, can work in a team  and willing to learn then we would love to see you. The team have tailored the audition so that complete beginners get the best opportunities.
What would you say is the secret to creating a truly scary experience in the horror mazes?
A lot of guests ask what is the scariest maze and what's the best one. The mazes are unique to any other ride or attraction around the Resort because it all comes down to what you are scared of. Everyone can have a very different experience of the mazes depending on what pushes their buttons, so we have clowns in The Big Top, total darkness in Platform 15, Walkers in our The Walking Dead attractions – so much variation that makes us so unique to any other Halloween event. When designing the attractions the key area is what is the scare in each room or zone and then look at building the attractions around that and also to keep it simple. Historically our scariest and most loved attractions are simple and that is what we design our new attractions around. There is also a fine balance between performance and the sets. We can make the most beautiful and stunning attractions however we need to ensure that we fill them with terrifying actors that are complimented with effects. A crucial point too is getting the feedback from our guests, we never know if anything is truly terrifying until we put our guests through and get their feedback and then we can adjust the performance and attraction accordingly – we are open to feedback as always looking to continuously improve the attractions!
What do you see for the future of FRIGHT NIGHTS?
That would be telling now! The event has grown bigger every year and will continue to do so, watch this space!
Until next time Islanders,
Jordan
Official THORPE PARK Resort Blogger