The Ultimate Autumn Bucket List
Monday September 19th 2016
Jordan
Ultimate Autumn Bucket List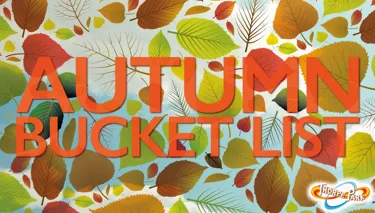 Everybody goes on about having fun in the summertime but we see no excuse not to carry that tradition on into the milder days of autumn. There's literally loads of fun activities to get stuck into! So shake off those summertime blues and whack on your coat and boots, here's our countdown to have the best autumn ever!
1. Bake something with pumpkin and cinnamon
Yes we know pumpkins are traditionally not for eating here in the UK, but chuck them in a pie or cupcake with some cinnamon and they taste AMAZING! Oh, and your house will smell incredible afterwards too. Here's a cool recipe for some insanely yummy pumpkin muffins to get you started: http://allrecipes.co.uk/recipe/8022/pumpkin-muffins.aspx?o_is=LV
If you've never done one or even if you're a scare maze veteran, no autumn is complete without having the absolute pants scared off you! There's still time to book tickets to this year's FRIGHT NIGHTS here: https://www.thorpepark.com/events/fright-nights/
3. Pick out and carve your own pumpkin
Heading to a supermarket and picking one up there is cheating in our eyes. Go down to your local pumpkin patch and get really hands on! Once you've picked the perfect pumpkin, get as creative as possible! Here's a few ideas to get you started: http://how-do-it.info/zombie-pumpkins-the-best-pumpkin-carving-templates-around/
4. Have a horror movie marathon
This one is definitely not for the little ones! Invite your friends round and have them each bring the scariest movie they can think of and spend the night clinging to each other huddled around a bowl of popcorn. Here's a list of some of the all-time greats if you're stuck for ideas: http://theartofbetter.com/2015/10/31-best-horror-movies/
5. Jump in a pile of crunchy leaves
So simple, yet so satisfying. Nothing says autumn like the crunch of a crispy leaf under your boot! Pick up a few on the way, and make yourself an autumnal collage, frame it or gift it!
6. Visit a corn maze
Autumn is harvest time which means corn mazes are everywhere just waiting for you to get lost in them! You can find your nearest one here: http://www.maize-maze.com/
7. Have a campfire and toast s'mores
It's not too cold to spend the evening outside just yet, so grab your family and friends and snuggle around a campfire for the evening (safety first of course!). You can even make a night of it by telling ghost stories and toasting s'mores. Here's how: https://uk.pinterest.com/pin/426505027188850785/
The weather is starting to turn so keep warm with some homemade soup! It's a LOT easier to make than you'd think, and healthy too! Check out one of our fave recipes here: http://intheplayroom.co.uk/2014/12/29/warming-chunky-vegetable-soup-recipe/
9. Take some beautiful photographs
Autumn is the perfect time of year to have your Instagram grid looking on point. There's so much colour everywhere it's hard not to feel inspired. Head down to your favourite place to take a walk armed with a camera and see what you can capture!
10. Go conkering!
Yes, we're making you go outside again. Grab a carrier bag and head down to your nearest patch of Horse Chestnut trees and gather as many as you can before staging your very own conker knockout championships! Here's a reminder of how to play if you've forgotten: http://www.redtedart.com/2013/09/25/play-conkers-horse-chestnuts/
Phew, we're tired out just reading all of the fun things we've now got to do over the next few weeks! Hopefully that will keep you occupied and before you know it Christmas will be here!
Until next time Islanders,
Jordan
Official THORPE PARK Resort Blogger