Theme Park Annual Passes
Thursday November 26th 2020
Michael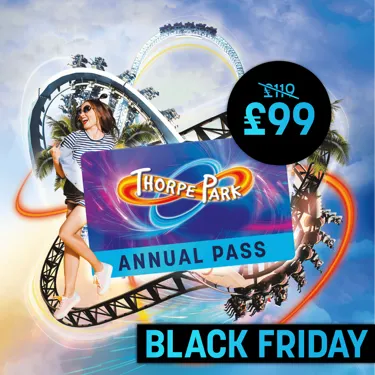 Hey Thrillseekers!
Because you're our biggest fans we wanted to give you some exclusive insider information on the NEW THORPE PARK Annual Pass – that's right, it's BACK!
You loved our Season Pass, but we hear you loved our Annual Pass even more! So, please join us as we welcome back the THORPE PARK Annual Pass.
THORPE PERKS
Our Passholders are our most loyal fans, so every Thorpe Park Annual Pass comes with all the great perks you love:
A year of THRILLS
Access to FRIGHT NIGHTS*
Entry to seasonal EVENTS*
Free PARKING
Discount on FOOD and DRINK
Discount on Thorpe Park MERCH
20% off Merlin Holiday Club
PLUS bring your mates on select dates for £20pp!
When can I visit?
You'll get a year of thrills included with your new pass! We've listened to your feedback and ensured the NEW Thorpe Park Annual Pass is even more generous than before.  With only a handful of restrictions and exclusion dates on our busiest days including 2nd – 5th April, 1st – 3rd and 29th - 31st May, 28th – 30th August, 30th – 31st October 2021, you can pack in a tonne of spring-time thrills, summer-spills and Halloween chills!
We still need to manage our theme park capacity so all Passholders will still need to pre-book their tickets at THORPEPARK.COM before each visit. However, pre-book tickets are yet to be released.  As we all know good things come to those who wait so be sure to keep an eye on our social pages and we'll let you know when they are ready to book for the 2021 season!  
Now fully digital!
The Thorpe Park Annual Pass has had a digital rebirth, so you're only a swipe away from your pass at all times. If you have an iPhone, you can even add your pass to your Apple Wallet – snazzy!
Where and when can I buy?!
We won't keep you in suspense; our Annual Pass is available to buy at THORPEPARK.COM now. PLUS, it will be at the introductory BLACK FRIDAY price of £99, so grab one whilst their hot!
*Restrictions and exclusions apply on certain dates throughout the season. For 2021 these include 2nd – 5th April, 1st – 3rd and 29th -31st May, 28th – 30th August, 30th – 31st October 2021.
Thorpe Park Gold Annual Pass
*A THORPE PARK Annual Pass entitles the holder to admission to THORPE PARK Resort only from the date of redemption for 12 months excluding:

8th-10th April 2023
30th April 2023
1st May 2023
28th-29th May 2023
27th - 28th August 2023
28th-29th October 2023
31st October 2023
Park closure days

Free Parking
Enjoy other benefits, including "Bring A Friend For Less" tickets on selected dates & theme park shop discounts